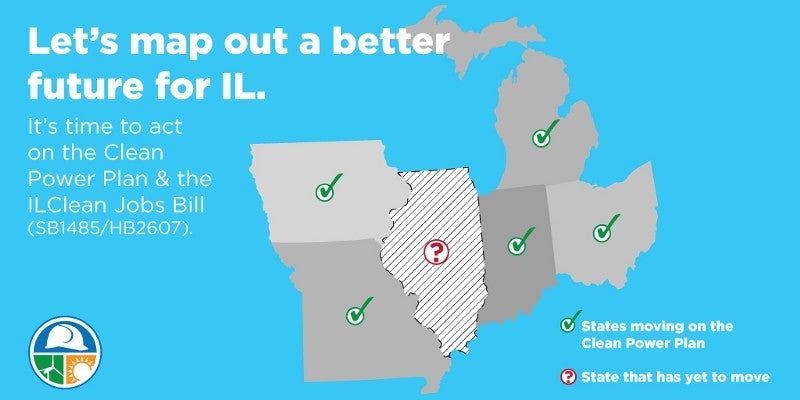 By Lisa Albrecht, renewable energy specialist with Solar Service Inc., and member of the Illinois Clean Jobs Coalition
This week, Illinois Governor Rauner gave his annual State of the State address – but, there was one big thing missing. Despite broad bipartisan support across the state for action on clean energy, Gov. Rauner failed to address this issue at all.
In summing up Illinois' current priorities, Gov. Rauner should have looked to the remarks he himself delivered in his first State of the State address last year:
"Our top priority must be making Illinois competitive again, to grow more jobs here… Competitiveness must become our watchword."
"We must avoid slipping further behind other states in…the capacity of our economy to grow."
"It's now or never for Illinois. It's time to act."
Those are sound principles. And, if the Governor is still committed to them, there is a clear and obvious path to achieving them: by embracing Illinois' clean energy future through the Clean Power Plan and the Illinois Clean Jobs Bill.
Illinois is falling behind on the Clean Power Plan
First, Gov. Rauner should join governors of both parties from around the country in moving forward with implementation of the U.S. Clean Power Plan, the nation's first-ever limits on carbon pollution from power plants. Today, having yet to announce its intentions regarding the plan, Illinois is a distinct outlier; at least 40 states have either initiated steps to meet the goals of the Clean Power Plan or announced their support for it. This represents more than mere foot-dragging on the part of Illinois; it has the potential to cost Illinois jobs, impact our public health, and slow our economy.
Among our neighbors, steps to carry out the plan are well underway:
Unlike many of the issues that are held hostage to state budgetary gridlock, this is one area where Governor Rauner can take a major step on his own – by signaling that Illinois will carry out the Clean Power Plan.
[Tweet "On Clean Energy, Illinois Governor would Have Been Wise to Borrow from…Himself."]
Illinois Clean Jobs Bill represents significant economic opportunity
Second, the Governor should join members of both parties in supporting the bipartisan Illinois Clean Jobs Bill which would strengthen Illinois' energy efficiency policies, update and extend the state's Renewable Portfolio Standard, and create a market-based strategy to meet the Clean Power Plan. Few initiatives have as much potential "to make Illinois competitive again" than clean energy. At the same time, the field of clean energy also shows the risk, as he warned, of Illinois "slipping further behind other states."
Sadly, that is exactly what is happening.
Illinois is failing to keep pace. Other states are pulling out all the stops to prosper in the clean energy marketplace – often, at Illinois' expense.
Here are some examples:
While the Governor can signal support for the Clean Power Plan on his own, the best path to building and sustaining growth rests in passage of the Illinois Clean Jobs bipartisan legislation.
Members of the Illinois Clean Jobs Coalition — including more than 160 business — support this bill because it contains policy reforms that will give businesses the certainty and predictability they seek. It also addresses Illinois' out-of-date energy policies, while creating 32,000 jobs in every part of the state and saving consumers $1.6 billion on their electric bills.
Make no mistake, a clean energy infrastructure will be built in America. The question is: where? Which states will create the jobs and enjoy the economic benefits?
Competition from other states is already leaving Illinois behind in the race for high-paying jobs and massive private sector investments. We cannot waste another day – and the Clean Power Plan and Illinois Clean Jobs Bill are the best place to start.
As Gov. Rauner said in 2015: "It's now or never for Illinois. It's time to act."
A version of this post originally appeared on the Illinois Clean Jobs Medium page.