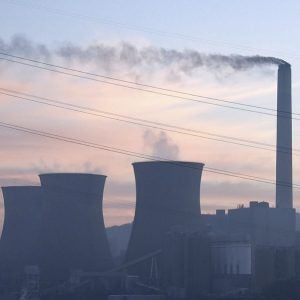 A mega utility from Ohio is appealing to the Trump administration for an unprecedented $8-billion, ratepayer-funded bailout, even pointing to a 1950s Korean War Act for relief. It's FirstEnergy's last-ditch appeal after losing previous efforts to prop up a fleet of failing coal and nuclear plants.
The company's Washington-based lobbyists have the ears of Energy Secretary Rick Perry, an avid coal champion, who could make a decision any day.
What neither FirstEnergy nor Perry are telling us is that a government handout of this magnitude could have implications for energy markets nationwide – while saddling Americans with a flurry of bailouts that go far beyond $8 billion. For no valid reason at all.
[Tweet "FirstEnergy's dangerous push for an $8B bailout: What you need to know"]
A dangerous precedent
If the U.S. Department of Energy grants FirstEnergy's latest request, which spans 80 plants in a 13-state region managed by the PJM grid operator, expect indebted utilities in other regions to listen up.
If FirstEnergy gets a bailout, power companies from California to Florida to New Hampshire may ask for similar favors. Illegal government handouts could then ripple through America's far-flung energy landscape.
Left holding the bag will be ratepayers like you and me. So how did we get here?
Years of bad business decisions and schemes
Even before President Trump took office, the utility has been cooking up creative ways to get out from under a string of bad corporate decisions [PDF].
As many other energy companies were turning to cheaper natural gas and renewable technology over the past decade, FirstEnergy headed the opposite direction, acquiring a Pennsylvania utility with a fleet of uneconomic coal plants. Mired in debt, the company's power generation subsidiary recently declared bankruptcy.
Corporations in a competitive market normally don't ask ratepayers to pay for their mistakes. But FirstEnergy does, time and time again, even as it runs into roadblocks.
FERC: A bailout would disrupt markets
First, the company begged for help from the Public Utilities Commission of Ohio, which initially agreed to billions in bailout funds. That plan was, however, blocked by the Federal Energy Regulatory Commission, which said it would illegally disrupt regional competitive markets.
FirstEnergy then turned to the U.S. Department of Energy, asking Perry to declare more than 80 power plants in Midwestern and Mid-Atlantic states "emergency" units under Section 202(c) of the Federal Power Act.
Used rarely during times of war or natural disasters, the obscure designation would provide guaranteed profits to these coal and nuclear plants, including FirstEnergy's, to the tune of $8 billion a year.
Regional grid operator: What emergency?
But PJM, the grid operator for FirstEnergy's territory, rejected the notion that the utility's troubled plants are needed and that their retirement constitute an emergency.
So did the pro-fossil fuel group American Petroleum Institute. Electricity markets are working just fine, the API said, adding that bailing out a flailing energy company that doubled down on coal would be at odds with the government's goals of "energy dominance, economic growth and improving America's infrastructure."
FirstEnergy's next move: 1950 Korean War Act
Yet even before the Section 202(c) play is complete, the coal lobby has floated another desperate possibility.
FirstEnergy's latest hope is for President Trump to invoke The Defense Production Act of 1950 [PDF]. Passed at the start of the Korean War, the act gives the president powers to "influence domestic industry in the interest of national defense."
Using national security as an excuse, West Virginia Senator Joe Manchin has also weighed in [PDF]. He's urging the president to use the act to justify billions in government handouts to old and uneconomic coal and nuclear plants unable to compete on their own.
Note that Manchin wasn't talking about just FirstEnergy. He wants the president to prevent the retirement of coal and nuclear plants anywhere, with an emphasis on coal. "This industry," he wrote, "and the men and women who work in it can no longer do it alone."
Perry says he's "looking very closely," at a proposal that, in other words, could cost all Americans and send ripples of chaos throughout our competitive power markets. As crazy as it sounds, he may go for it.
This post originally appeared on our Voices blog.