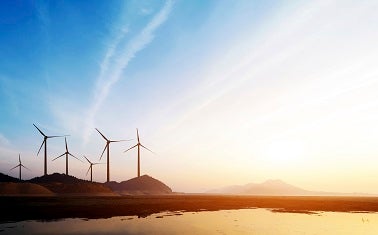 Seven months ago, I made a strong statement that may have left some people shaking their heads. I said that we can turn the corner on climate change – end the centuries-long rise in greenhouse gas emissions and see them peak and begin to decline – in just five short years.
As it turns out, 2015 is shaping up to be a year of giant steps toward that goal.
In a deeply reported New York Magazine piece, political writer Jonathan Chait calls it "the year humans finally got serious about saving themselves." Says Chait, "The world is suddenly responding to the climate emergency with – by the standards of its previous behavior – astonishing speed."
I agree. Here are four reasons I believe we're headed in the right direction:
1. America is tackling greenhouse gas pollution
The United States remains among the world's largest per-capita emitters of carbon dioxide and other heat-trapping pollutants. But thanks to this year's action by the Environmental Protection Agency, America now has a Clean Power Plan that will cut emissions from power plants, our single largest source of carbon, by 32 percent over the next 15 years.
The era of unlimited climate pollution is over.
On the heels of the EPA's Clean Power Plan came a proposed rule to cut methane from newly built facilities in the oil and gas industry. More needs to be done, but this is an important step in dealing with a potent greenhouse gas that accounts for 25 percent of Earth's current warming.
These climate laws will help the U.S. meet our target to reduce emissions by 26-28 percent below 2005 levels by 2025, a commitment we made to the international community that is key to getting other large polluters to do their share.
We'll need further reductions, but this is a very significant start.
2. China is building momentum for global action
The world's No. 1 greenhouse gas emitter, China submitted its climate plan to the United Nations in June, confirming it will let emissions peak by 2030 – and possibly sooner. I know from my colleague Dan Dudek in China that "sooner" is possible because this is a country that's serious about climate action.
Pollution is choking Chinese cities and threatening economic growth, but the country's leaders also see opportunity in the emerging clean energy industry. China has pledged to have 20 percent of its energy come from wind, solar and other non-fossil energy sources within 15 years – a massive investment in a nation of 1.4 billion.
This year alone, China is expected to add 18 gigawatts of new solar capacity. By comparison, the U.S. recently surpassed 20 gigawatts total.
To have China and the U.S. making such significant commitments has transformed the dynamic going into the U.N. climate summit in Paris. Instead of making excuses for inaction, the leading emitters have launched a virtuous cycle of increasing ambition.
That changes everything.
[Tweet "4 undeniable signs we're making progress on #ClimateChange edf.org/fN5"]
3. Clean energy is lifting people out of poverty
One billion people worldwide still have no energy, and more than 1 billion live in extreme poverty. Turning the corner on climate cannot mean that economies can't develop.
But just as some developing economies adopted cellular technology without ever having land lines, some will leap-frog the dirty energy phase of economic development and go straight to clean.
In fiscal 2014, the World Bank more than doubled lending for renewable energy projects to nearly $3.6 billion – or 38 percent of its total energy lending.
As Rachel Kyte, the bank's vice president and special envoy for climate change, recently said, what poverty-stricken people of the world need now is a "a low-carbon revolution."
And this is starting to happen. In 2014, the emerging economies of China, India, Brazil and South Africa invested $131 billion in clean energy, just 6 percent less than the developed world did.
4. Pope Francis is galvanizing world opinion 
When Pope Francis released his much-anticipated encyclical on environmental stewardship in June, he made an urgent moral appeal to the world.
As my colleague Paul Stinson noted at the time, "A leading voice without political boundaries, the pope has the ability to reach people who previously could not or would not face the reality of climate change."
Pope Francis called on us to push harder to replace fossil fuel with renewable energy sources – and people are listening.
The day he speaks to Congress later this month, a climate rally is expected to draw many thousands to the nation's capital in a unified call for action. Environmental Defense Fund will be there, too.
The momentum is growing. We're on our way to turn the corner on climate change – and the race of our lives is on.
This post originally appeared on our EDF Voices blog.