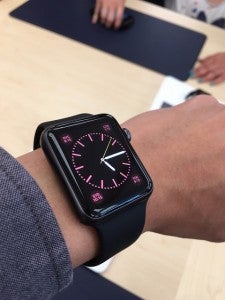 The new Apple Watch, which went on sale last Friday, is attracting huge attention. Among many other features, the watch will monitor your health by tracking fitness and activity, like the Fitbit. In its first day on the market, nearly one million were sold.
The popularity of this wearable device speaks to a larger trend happening in technology that one might call "life tracking": the ability to track, analyze, and hone your personal activities through the use of connected devices. From fitness to finance, technology like the Apple Watch is enabling more choice and efficiency than ever before. And, just as fitness wearables monitor our personal activity, other devices can monitor our home energy activity – leading to an array of cost-saving and environmental benefits.
Home energy monitors
The Nest thermostat is one of the most well-known home energy monitors. It learns how you like to set your home temperature, and then automatically programs itself to follow your patterns.
For example, if you work an office job and are away from home nine to ten hours a day, the Nest thermostat may cycle the air conditioner down to increase the home temperature a couple of degrees during the day while you're gone, and then automatically reduce the temperature an hour or so before you return to re-establish your preferred home temperature.
This process of automated, learned behavior by home energy devices has significant cost-savings potential. Nest users reduced their energy use from air conditioning by 11 percent in a recent California study, and lower energy use means lower electric bills.
Some home energy monitors can even allow us to see in real time how much energy we're using – both for our entire house and on an appliance-by-appliance basis, which can encourage conservation. A 2012 study by the American Council for an Energy Efficiency Economy entitled "Results from Real-Time Feedback Studies" reported that customers reduced their energy consumption up to 12 percent when they received real-time feedback about their energy usage in the form of in-home displays, web portals, and prepaid metering programs.
Demand response moves in
Home energy management devices can also enable utility-sponsored, energy-savings programs like demand response.
Demand response pays people to save energy when electricity demand is high by integrating home energy monitors with smart meters, the interface that allows two-way communication between customers' appliances and utilities. For example, when energy demands are up, households and businesses are notified by their utility – usually through a smart phone app, text, or display notification on a home energy device – so that customers can choose to switch off non-essential appliances like water heaters, washers, and dryers. Smart meters and programmable thermostats make demand response even easier by automating this process.
At the end of the month, customers will see a rebate on their electricity bill for participating in demand response, in addition to the amount they saved by using less energy. Many utilities offer this type of program, especially now that smart meters reach over 40 percent of U.S. households.
Electricity pricing can finally be dynamic
Time-variant pricing plans are also becoming more popular with the expansion of smart meters and home energy management devices. The idea is that utilities can offer customers different rates at different times of the day or throughout the month that better reflect the true cost of electricity, which varies depending on when it's used. The varying cost of electricity can be communicated through home energy management devices' display screens or accompanying smart phone apps.
For example, when a heat wave occurs on a weekend when most people are at home, demand skyrockets as people crank up their air conditioners, creating what is known as a "critical peak event." In order to meet this increased demand, the most expensive power plants – which remain unused for most of the year and generally tend to emit more pollution – are turned on. Enabling customers to curb their electricity use during these heat waves could offset the need for these dirty, expensive plants, resulting in lower prices and less harmful pollution.
Home energy monitors can be programmed to receive price signals from the utility during these peak events, giving customers the choice to either manually adjust their appliances in response to these signals, or program their home energy monitor to automatically adjust appliances.
Utilities must deliver   
Apple created the Apple Watch to give people real-time feedback on – and thus greater control over – their lives. Similarly, there is great potential for home energy monitors to change people's lives. And the market for home energy management is growing rapidly – in fact, it's predicted to exceed $3 billion annually by 2020.
But, home energy monitors are just a piece of the energy savings puzzle, and combining them with utility programs like demand response and time-variant pricing can unlock even greater savings. However, utilities, and the regulators overseeing them, need to follow through with implementing these programs as part of their investment in a smarter grid. Then we can ensure customers have the opportunity to receive all the potential financial and environmental benefits "wearables" (or their energy management counterparts) can offer.
Photo sources: Flickr/LWYang; Ceiva