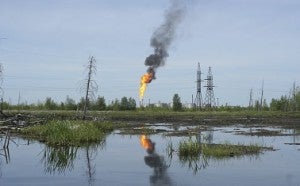 Methane emissions from the US oil and gas sector increased, according to new data finalized today by the Environmental Protection Agency. Sadly, the figures come as no surprise, based on preliminary numbers and plenty of other observations, both scientific and anecdotal.  No surprise unless you're part of the industry's public relations machine, which keeps insisting that up means down.
What is legitimately surprising is that this problem continues in spite of the many simple, proven and cost effective ways there are to fix it. And therein lies opportunity.
EPA's latest inventory estimates that in 2013, the oil and gas industry released more than 7.3 million metric tons of methane into the atmosphere from their operations—a three percent increase over 2012—making it largest industrial source of methane pollution. That's enough to meet the needs of 5 million households, and packs the same climate punch over the first 20 years as the CO2 emissions from more than 160 coal-fired power plants.
What's more, new EPA figures almost are certainly an understatement. A 2014 study by Stanford University found that the agency may be systematically underestimating emissions.
The oil gas industry has been quick to tout their small victories in minimizing methane pollution, but there's always a catch. In fact, according to EPA today, the only sector of the natural gas supply chain where emissions have decreased is the production phase. What industry is not as quick to point out is that those emissions dropped as a direct result of EPA regulations of hydraulically fractured gas wells.
Lobbyists will assure us that emissions are under control, and that voluntary efforts are sufficient to help us turn the corner on emissions. But in fact, the inventory itself shows a decline in voluntary emission reductions.
Methane is a serious challenge – responsible for approximately 25 percent of the warming we currently experience, and trapping 84 times more heat over 20 years than carbon dioxide. But it's also a huge opportunity to make a major dent in overall greenhouse emissions, quickly and at reasonable cost. It's time we started taking advantage.