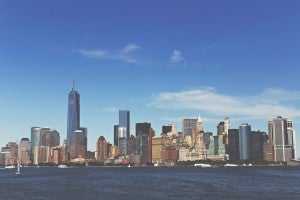 These are exciting times. New York's 'Reforming the Energy Vision' (REV) has paved the way for change of unprecedented proportions. New York regulators are preparing the state for a future in which rooftop solar installations are ubiquitous and the rumbling staccato of gasoline-fueled automobiles is replaced by the relative silence of electric vehicles.
While more rooftop solar energy and electric vehicles are certainly part of our energy future, some of the biggest changes are likely to come from less visible – and less obvious – sources, particularly for customers in densely populated metropolitan areas and low-income customers, who make up a significant portion of New York state's customer base.
Urban dwellers, for whom mass transit is a central part of daily life and owning your own rooftop is less common, may view electric cars, rooftop solar, wind, battery storage, and on-site energy generation as appealing, but also abstractions more suitable for upstate homeowners than those living in crowded apartment buildings.
For these customers, the opportunity to contribute to a clean energy future will be guided largely by the domain of Adam Smith's invisible hand: economic forces that enable greater control over how much energy is used and at what price.
New York seeks to engage low-income customers
Fortunately, the New York Public Service Commission (Commission) is aware of this dichotomy between low-income customers and more affluent ones and is examining the best way to address these concerns through two additional proceedings in conjunction with REV. One focuses on needs specific to low-income New Yorkers, while the other examines the option of community net metering, which would allow urban residents to participate in emerging clean energy technologies, such as rooftop solar.
[Tweet "Who could benefit most from fair electricity pricing? Low-income customers. "]
In addition to these efforts, the Commission is also evaluating time-variant electricity pricing, which allows customers to pay different prices for electricity depending on when it is used, reflecting the true costs of making and moving  electricity. Time-variant pricing could benefit all energy customers, transcending both geographic and financial constraints and enabling everyone to participate in the clean energy future envisioned in New York.
In a previous blog post by my colleague, Elizabeth Stein, she compared the current electricity pricing system – in which residential customers pay the same price for electricity regardless of the time of day when it is used – to a supermarket where customers fill up their carts and pay by the cart instead of by the contents. With the current flat electricity pricing, residential customers pay for electricity services without any information on their true costs. Without this information, customers can't make a clear connection between their behavior and their utility bills.
Low-income customers are most affected by fluctuating monthly bills
Low-income customers stand to benefit most from improved electricity pricing because these customers spend a higher share of their income on energy than others and are most sensitive to wide fluctuations in monthly utility bills. Time-variant pricing, and the technologies that allow customers to automatically respond to these variations in price (like smart meters), results in adjustments to electricity use that can ultimately lower customer bills. By simply shifting their use of heavy appliances, such as a dishwasher or washing machine, to more affordable times of day, customers are able to benefit from lower electricity prices. This opportunity is especially important for low-income customers, who might struggle to pay monthly electricity bills during a summer heat wave that required heavy air conditioner use.
When low-income customers have had access to time-variant pricing, the results have been compelling. A time-variant pricing pilot conducted by the Sacramento Municipal Utility District showed that study participants not only report high levels of satisfaction with the programs, but in some cases, they are more likely to perceive the prices they are charged as fair compared to those customers who have flat pricing. Moreover, low-income participants showed higher-than-average acceptance of time-variant pricing.
For many, simply moving to a time-variant rate can lead to financial savings without having to change their patterns of electricity use. That's because many low-income customers are "natural winners," meaning they already use less energy during peak hours – when time-variant prices are higher – than the average residential customer. If these natural winners do not have access to time-variant prices they are being over-charged for electricity, since they place less stress on the power grid by not using electricity during times when the system is constrained.
Time-variant pricing aligns with REV goals
Effective implementation of time-variant pricing can be aligned with the Commission's stated goals of better engaging customers because it creates a path forward for all who choose to embrace it, while complementing the low-income and community net metering efforts currently underway. It also aligns customer choice with the health of the system since time-variant pricing can help utilities defer or avoid investments in energy infrastructure built to meet increasing energy demand.
Our current one-size-fits-all system of electricity pricing is not ideal for all customers and unduly burdens those who would stand to benefit most from time-variant pricing. Certainly not all customers will take advantage of new time-variant pricing options once they become available, but the absence of time-variant pricing as an option will place limits on utilities, regulators, and customers at a time when most other industries are expanding opportunities to engage with people through customer-focused solutions.
For more information, check out our new time-variant pricing fact sheet.