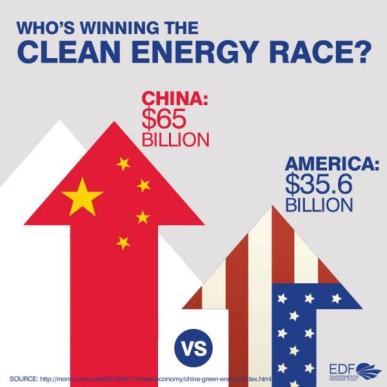 As the international sporting world shifts its sights from somewhat snowy Sochi (host of the 2014 Winter Olympics) to balmy Brazil (host of this summer's soccer World Cup), a recent European Commission report shows that the European Union (E.U.) has its eyes fixed on taking the lead in another global contest of sorts: The race for a more competitive, secure, and sustainable energy economy. At stake are neither medals nor trophies, but long-term economic strength. As Europe – and, indeed, the rest of the world – play energy hardball, what does it mean for the global energy competitiveness of Team USA? Let's look at the stats.
Current energy costs and competitiveness
Reliable, affordable energy powers industrial innovation and growth, making energy costs and policies one of the most important drivers of economic competitiveness.
In the E.U., industrial gas and electricity prices are two to four times higher than in the U.S., and 12 to 20 percent higher than in China, according to the European Commission report, part of a larger EU climate and energy strategy that extends to 2030. These are staggering statistics, due primarily to the high cost of imported gas from Russia, Europe's chief supplier.
The picture is sunnier on the U.S. side of the pond as a result of the shale gas boom slashing domestic energy costs, creating a tremendous competitive advantage for U.S. industry, even as it continues to raise myriad environmental issues. Similarly, with low electricity costs and favorable government policies – especially with regard to increased investment in renewables – China too is having its day in the sun, enjoying the title of "most competitive nation" according to last year's Global Manufacturing Competitiveness Index.
That said, even if the U.S. and China are currently enjoying the energy status quo, it's important to recognize that the pursuit of a robust energy economy for tomorrow is a marathon, not a sprint.
Addressing the energy "Trilemma"
In a recent speech, International Energy Agency Executive Director Maria van der Hoeven identified today's "energy trilemma," which lies at the core of the global competitiveness issue: How do nations simultaneously achieve energy security, sustainability, and economic prosperity? There may be no universal solution, but there are certainly proven strategies and tools that hold enormous potential.
For the U.S. to stay energy competitive, we must create a diverse energy supply that features responsible use of low carbon energy resources along with clean, renewable resources – and we must get the right policies in place to ensure these resources are valued fairly, so as to encourage further clean energy investment. It's no longer a technological issue, but a regulatory one.
Additionally, we must advance smart grid tools, such as demand response, which improve grid reliability and enable consumers to save money. China seems to agree: In 2013 China invested $4.3 billion in the smart grid market, marking the first time they outspent the U.S., which saw its own smart grid investment fall 33 percent to $3.6 billion. By the same token, it's critical that we continue to develop grid efficiency and storage technologies, which hold vast potential for increasing the broad-scale adoption of renewables and improving grid flexibility and resiliency.
Every nation may face the same energy "trilemma," but those nations that can provide a smarter, more resilient energy system at competitive costs will hold a distinct competitive advantage in the global economy. The time for us to invest in that capability is now. Lest the U.S. miss the opportunity to lead the world into the energy future – or we miss the opportunity for one last sports metaphor – let's just say that it's still early in the game, but the clock is ticking.
This commentary originally appeared on our EDF Voices blog.