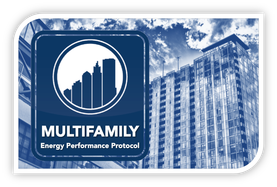 By: Matt Golden, Senior Energy Finance Consultant
The Investor Confidence Project (ICP) is pleased to announce the release of a new series of Multifamily Energy Performance Protocols (EPP) that build on ICP's successful commercial protocols to bring the benefits of standardization to a broader array of project types. This suite of three protocols include Large Multifamily for whole building projects over $1M, Standard Multifamily for smaller whole building projects typically less than $1M, and Targeted Multifamily for single measures.
The multifamily protocols were developed with the collaboration of industry experts including participating members of the ICP Multifamily Development Team and the ICP Ally Network. The bulk of the protocols are comprised of the same market tested methodologies that can be found in all of ICP's Energy Performance Protocols. However, the multifamily versions have been designed to address considerations that apply to the multifamily sector including the issues of split incentives and tenant privacy.   
As with all of ICP's Energy Performance Protocols, the goal is to standardize how projects are baselined, engineered, installed, operated, and measured. This allows investors and building owners to gain confidence in the long-term return on their energy efficiency investments as well as reduce the transaction costs associated with developing projects. The protocols form the backbone of the ICP workflow that streamlines the development process and results in ICP Investment Ready Projects by leveraging ICP's network of designated project developers, software providers, and quality assurance engineers. Investors of all types, especially building owners, can be confident that ICP Investor Ready Energy Efficiency projects have been developed using industry best practices to provide reliable returns and reduced performance risk.
The Investor Confidence Project thanks all of its contributors and supporters, especially the Multifamily Technical Forum, that make continued development of our protocols possible. We welcome any additional feedback that the industry can provide via the Technical Development Forums of our website. Lastly, the Investor Confidence Project seeks your help in achieving critical mass and encourages organizations who support industry standardization to sign up for membership in our no-cost Ally Network.