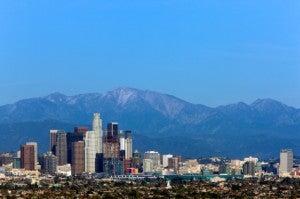 Los Angeles Mayor Eric Garcetti and Hilton Hotel executives were all smiles last week, and for good reason: they had just cut the ribbon on the completion of a $7 million energy efficiency upgrade to the Universal City Hilton – the largest project of its kind in the U.S.
LA's record-setting project is the third in a string of major commercial building retrofits in California in just the past two years, all thanks to Property Assessed Clean Energy (PACE), a program that allows customers to finance clean energy upgrades and pay them back, over time, on their property tax bills.
What's made PACE so successful is that it allows customers to avoid the sizeable up-front costs of major building upgrades, while saving energy and money.
Case in point: the Universal Hilton projects close to $1 million of savings per year from these energy efficiency upgrades.
The promise of large-scale, commercial PACE was first demonstrated in 2012, when the ProLogis Pier 1 Building in San Francisco received the first-of-its kind financing for $1.4 million of energy efficiency upgrades. This project kicked off what has become one of the most successful clean energy financing programs in the nation.
In July 2013, an EDF Climate Corps Fellow at Sacramento Mayor Kevin Johnson's office helped set a new commercial PACE record when the Metro Center Corporate Park closed a $3.16 million deal through the Clean Energy Sacramento program.
But these records don't last long; each of these new projects received more than double the financing of the previous project, a positive sign for the future of commercial PACE programs in California.
In fact, there are currently 25 active commercial PACE Programs in 10 U.S. states, proof that the trend is growing beyond the Golden State's borders.
Last year, Connecticut launched their own PACE program, finalizing nearly $20 million of transactions for commercial properties. Similarly, Toledo, Ohio executed $18 million of commercial PACE transactions in 2013.
While the commercial PACE market continues to evolve, California continues to raise the bar, providing energy efficiency financing opportunities – and future ribbon cutting ceremonies – that benefit building owners and protect the environment.
Learn more about PACE in California: