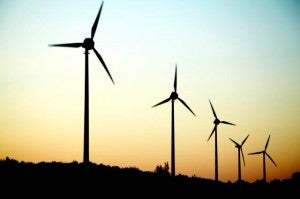 This blog post is co-authored by Marita Mirzatuny and Kate Zerrenner.
In addition to passing tax cuts and making pecan pie the official state pie of Texas, the 83rd Legislature heard numerous energy-related bills.  As a solution to our Texas Energy Crunch efforts, EDF supported 13 bills that would have provided relief to Texas' resource adequacy problems; in other words, the issues Texas faces as a result of increasing energy demand, scorching temperatures and a record drought.  Among those bills (which we review on page 13 of our 'State of the Texas Energy Crunch' report) are a few, highlighted below, that made some – albeit not enough – progress.
Energy Legislation
A big success this session was the passage of Senate Bill (SB) 385 by Chairman John Carona.  SB 385, or the Property Assessed Clean Energy (PACE) bill, clears some of the hurdles that prohibit commercial and industrial properties from taking advantage of new financing for energy improvements.  PACE allows property owners to pay for water and energy efficiency upgrades or renewable energy improvements with loans, which are then repaid through an annual charge on their property tax bill.  For more on this legislation, please see our recent blog post covering PACE in Texas.
Chairman Carona's demand response bill, SB 1351, passed and was referred to State Affairs in the House.  Demand response (DR) initiatives allow customers to voluntarily reduce peak electricity use and receive a payment for doing so in response to a signal from their utilities.  Additionally, Chairman Rafael Anchía introduced the companion bill, House Bill (HB) 2194.  HB 2194 allows for customer, or demand-side resources (DSR), from "residential, commercial, and industrial customers to participate in all energy markets" and specifies that DSR "must be designed and implemented in a manner to increase market efficiency, competition, and customer benefits." This bill clears the way for demand response, renewable energy, and energy efficiency to become important players in the market.
SB 1280, by Senator Kirk Watson, passed out of the Business and Commerce Committee with a seven to two vote.  This bill, regarding Texas' reserve margin for the electric grid, requires that power regions (such as the Electric Reliability Council of Texas, or ERCOT) estimate the available generation at any given time, the expected peak demand (demand at the hottest part of the day when the most energy is being used) and the amount of reserve energy needed to ensure a reliable electricity supply.  SB 1280 also directs the use of voluntary load participation programs (think demand response) with at least 20 percent of peak energy demand coming from each of the residential, commercial and industrial sectors.
Senator José Rodríguez's net metering bill, SB 1239, successfully passed out of the Business and Commerce committee.  Texas is one of only seven states where customers are not guaranteed fair compensation for the electricity they provide to the grid.  SB 1239 clarifies that all retail electric providers, municipal utilities and cooperatives must buy back extra electricity from residential customers along with churches and schools at a reasonable, market-based value.  For example, Los Angeles implemented the largest solar buyback program in the nation earlier this year, paying customers 17 cents a kilowatt hour for excess energy produced.
In the House, HB 303 by Representative Eddie Rodriguez called for a new renewable energy goal – to supply 35 percent of energy demand with clean energy by 2020, with at least two percent coming from solar.  This marks an important precedent for the clean energy standards introduced in state legislatures around the country.  Additionally, Representative Rafael Anchía authored HB 2196, a bill that addresses payments to customers for renewable energy and other demand-side contributions to the electric grid.
While it's great that some of the bills gained some traction, only SB 385 made its way to the Governor's desk.  With a hotter than average summer approaching, possibly worse than 2011, electric reliability is not a guarantee and these bills would have provided solutions to help address our energy issues.  Already Texas is receiving national attention for our impeding energy shortages.
Water Legislation
At the last minute, the House and Senate, after much back door negotiating and out front wrangling, approved a plan to fund the State Water Plan.  HB 4, by Chairman Allan Ritter, set up two funding accounts to pay for water projects.  These accounts must be approved by voters, because the bills would amend Texas' Constitution to allow the plan to be initially funded with a portion of the Rainy Day Fund. Read More »