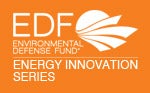 Throughout 2012, EDF's Energy Innovation Series will highlight around 20 innovations across a broad range of energy categories, including smart grid and renewable energy technologies, energy efficiency financing, and progressive utilities, to name a few. This series will demonstrate that cost-effective, clean energy solutions are available now and imperative to lowering our dependence on fossil fuels.
For more information on this featured innovation, please view this video on SCIenergy's Managed Energy Services Agreement here.
In our feature on Honest Buildings, we noted that the building sector is responsible for nearly half of CO2 emissions (transportation is a third) and that 75 percent of the electricity produced in the U.S. is used to operate buildings. However, the economics of making buildings more efficient can be tricky. Improvements often require significant capital, and since the tenants – not the building owners – pay the energy bills and reap the savings from efficiency upgrades, building owners often lack the incentive to invest in energy-saving measures.
Enter Managed Energy Services Agreement (MESA), the innovative financing structure from Dallas-based SCIenergy, which provides building owners and managers a way to cut their energy usage without incurring high up-front costs. It does so by allowing an investor to agree to provide energy to a building at a price based on the building's historical costs. The investor pays for energy efficiency upgrades and then uses the savings to provide a return on their investment.
"We think about intelligence as a source of energy, just like we think of coal, nuclear, oil, and renewables as sources of energy," said Woolsey McKernon, managing director of SCIenergy. "Building operators are leaving billions of kilowatt-hours, and therefore millions of dollars, on the table because the expense is short-term and the payoff is long-term. We flip that model."
Tackling the energy challenge from the economic side of things is tough, because in many cases, saving energy dollars long-term requires up-front capital. Services like SCIenergy's MESA remove that cost barrier and allow customers to reduce their energy use and cost.
Making this approach work requires a unique business model. Customers agree to purchase their electricity and gas from SCIenergy at a monthly cost based on their historical usage. SCIenergy then makes investments in system automation, energy management tools and other building improvements that are expected to save energy. SCIenergy uses the savings to finance their upfront investment at no cost to the property owner. If the savings are less than expected, SCIenergy absorbs the risk.
One SCIenergy customer, Corporate Office Properties Trust, is a real estate investment trust (REIT) that owns more than 20 million square feet of rentable office space, primarily in the Washington, D.C. area. SCIenergy applied its services and made $16 million in improvements to 26 office buildings, resulting in a 25 percent reduction in annual energy costs and more than an 11,000-ton reduction in energy-related CO2 emissions.  In addition, there was an added benefit to tenants as well:  the number of calls to building managers complaining about an office being too hot or too cold dropped 95 percent.