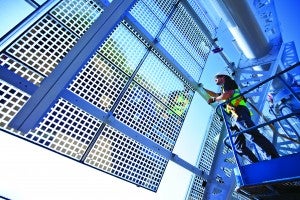 (Excerpt from original post on Fox News Latino on 9/13/12)
Economy and jobs are the top issue on Latino voters' minds, according to the 2012 "Latino Decisions Poll," a theme that will be featured prominently in this week's Hispanic Heritage events in DC.
It's all the more reason to discuss a powerful engine of opportunity in this country called the clean "green" economy – it is here, it is real, and it is one of the few bright spots in an economy desperate for a comeback.
In 2010, I wrote "Green Can Grow Latino Business," arguing that the clean economy will create new demand for goods and services, new supply chains and niche markets, and opportunities to create new business models and reinvent old ones.
This is a boon for all would-be entrepreneurs, including Latinos — the nation's fastest growing demographic. Further, new business creates jobs, and jobs create more demand for goods and services, and the virtuous cycle continues.
The results?  Despite the persistence of a national recession, the clean energy sector grew at double the rate of national economy from 2003-2010, attracting record-level investment and venture capital last year, and boasting twice the export value of traditional sectors.  In total, "Green Goods and Services" as defined by the U.S. Department of Labor accounts for 3.1 million U.S. jobs, with more than one-third of those jobs in the struggling construction and manufacturing industries.
In my home state of California, where Latinos make up 38 percent of the state's population, the numbers are even more striking:
California leads the country in clean economy jobs and solar power generation, and wind power has doubled since 2002.
The state accounts for 13 percent of all "environmental goods" exported by the U.S., the majority in renewable or efficiency products.
From 2002 to 2011 the state produced 9 percent of worldwide clean energy patents,
Since 2006, $9 billion in venture capital has flowed to California clean technology firms.
Jobs in the clean economy are diverse, across a wide range of education-level and skills.  On average, clean economy jobs offer a higher median wage and career advancement opportunities, and almost half of all jobs in the clean economy don't require a college degree, according to the Brookings Institution.
An analysis of clean energy jobs in Southern California by Philip Romero, the former Dean of CSU Los Angeles College of Business and Economics, finds that "workers command wages with a 50-to-100 percent premium over the average job," and estimates that the overall clean economy will grow "by at least 60-to-100 percent"  by the late 2030's.
If we want to compare this to fossil fuels, we find that the overall clean economy employs "more than ten times as many workers in the LA region as does petroleum and coal products production," according to Romero — and analysis of the oil industry's own job estimates finds that more than half of all the state's "direct jobs" are gasoline station attendants making minimum wage.
If we want to have a serious discussion about economic opportunity – for all communities – we need look no further than the clean "green" economy.
It is an economic engine that is creating new demand, new investments, well-paid jobs, and new business opportunities, all in spite of the worst economic downturn since the Great Depression.
And, by the way, it is creating economic growth without harming the planet and poisoning communities with toxic pollution.  If we want America to continue being the land of opportunity, then let green grow!
Jorge Madrid is a Fellow with the Environmental Defense Fund. He is also a member of the Board of Directors of Voces Verdes, and a former Graduate Fellow with the Congressional Hispanic Caucus Institute, and the California Latino Caucus Institute.  He can be reached at jmadrid@edf.org 
See original post at: http://latino.foxnews.com/latino/politics/2012/09/13/jorge-madrid-clean-economy-is-opportunity-for-us-latinos/#ixzz26SmlEJOy