By Jorge Madrid, Campaign Manager, Climate & Energy.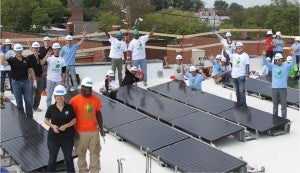 I thought only supervillains like Mr. Burns or Supreme Leader Snoke from Star Wars were bold enough to try snuffing out the sun…I was wrong.
I've been writing about solar power and economic equity for eight years now and I still firmly believe the vision that drew me to this issue in the first place: solar and other forms of clean energy hold the potential to be a jobs and economic growth machine for communities who need it the most.
Back in 2008, I joined a collective movement of environmentalists, community and justice activists, and labor and faith groups who coalesced around a vision for the "green collar economy." The idea of this movement was to fight climate change while also lifting people out of poverty and jails, and helping them transition into promising careers in growing industries.
Since then I've seen many great strides in the creation of a clean energy economy that employs hundreds of thousands with well-paying and accessible jobs, propelled by smart policy, innovation, and upstart private and public sector players, all making meaningful investments in communities. Rooftop solar in particular has begun to challenge the status quo by turning people's homes into mini power plants, cutting into dirty power and the monopoly-dominated, electric grid.
Yet, despite this progress and opportunity, some states – fueled by short-sighted officials, fear-mongering, and the threat of declining profits for big business utilities – want to shut it all down. Read More »