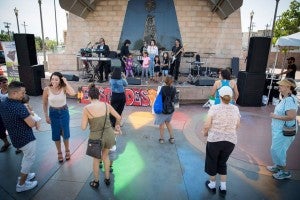 By: Luis Gutierrez, Senior Associate, Leadership for Urban Renewal Network (LURN) and Jorge Madrid, CA Campaign Director, Environmental Defense Fund (EDF)

It's a warm, sunny day in August at the iconic Mariachi Plaza in Boyle Heights, California. More than 400 local residents have come together to dance to the classic tunes of Selena and the cumbia-rock fusion of El Conjunto Nueva Ola – the entire stage powered by solar. They're enjoying delicious vegan treats, participating in a live mural art project, and screen printing their own reusable tote bags. Many are collecting free shade trees to plant at home, learning about bicycle safety and receiving free helmets, and discovering information about a new vehicle trade-in program that allows Californians to swap out their older vehicles for a new or used electric car. So what exactly is this celebration of music, art, culture, and clean energy? It's Eastside Sol.
Event organizers Jorge Madrid and Luis Gutierrez reflect on the origins of Eastside Sol, its driving principles, and what's in store for the future.