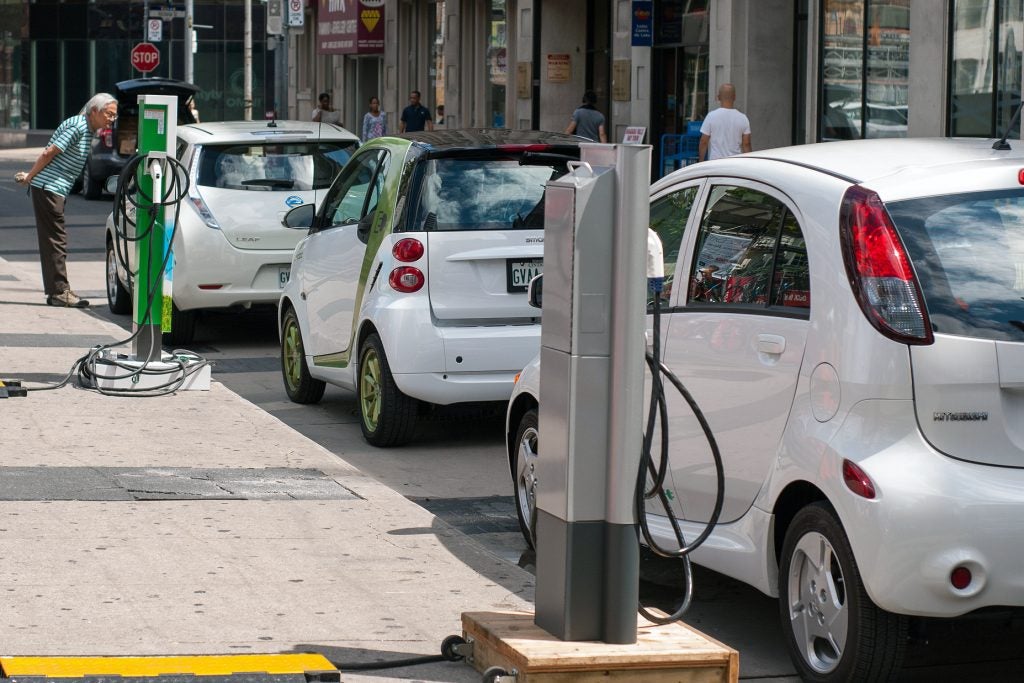 The broad coalition defending America's clean car standards is gaining key allies as Americans unite to build a pollution-free transportation future.
Led by Ford, automakers representing nearly half of the U.S. market have committed to working with California and the incoming Biden-Harris administration to enact ambitious policies that will create high-quality domestic jobs, protect our health, and confront the climate crisis. This is a good start, but we need all automakers to ditch the Trump administration's clean cars rollback and advocate for next-generation standards that will make new light duty vehicles 100% pollution-free by 2035.
America's clean car standards are among our most effective policies for reducing pollution exposure, cutting climate emissions, and creating good jobs. By driving innovation and cutting fuel costs, the model year 2017-to-2025 Clean Car Standards were projected to add hundreds of thousands of jobs and save Americans tens of billions of dollars at the gas pump each year. But the Trump administration rolled back the national standards and undermined longstanding state authority to set more protective standards. The Trump administration's rollback would cost jobs and have devastating public health and environmental impacts, including an additional 18,500 premature deaths, 250,000 asthma attacks, and 1.5 billion tons of climate pollution — as much as running 68 coal plants for five years — by mid-century.
This is not what Americans want. A recent Pew Research Center poll showed that 71% of Americans support strengthening vehicle standards, not rolling them back.
EDF has joined a broad coalition of businesses, states, cities, experts, and environmental and public health groups in defending our clean car standards in court. We filed a lawsuit challenging the Trump administration's attack on state authority and a second suit challenging its rollback of the national standards. (You can find all the legal briefs in the clean cars cases on our website.)  Leading transportation companies such as Lyft, Tesla, and Rivian have formed a key part of our coalition. But some automakers, including Toyota, Fiat Chrysler, GM, and Nissan, entered the litigation on the Trump administration's side.
GM and Nissan have recently withdrawn their support of the administration's attack on state authority, and GM has expressed its support for President-elect Biden's vision of a zero emission transportation future. This is a welcome development, but it's just a start. We need the entire industry to embrace ambitious policies, such as next-generation clean car standards that will create a million jobs and equitably transition the U.S. to 100% pollution-free new cars by 2035. These policies must prioritize eliminating pollution in environmental justice communities, and ensure that pollution-free vehicles and charging infrastructure are available to people of all colors and income levels.
And the automakers who are still backing Trump's attack on state authority — looking at you, Toyota and Fiat Chrysler — need to follow their peers' lead, for the sake of the climate, their customers, their employees, and their bottom line. Customer opinions of Toyota have dropped sharply in response to its stance on the clean car standards. This could have a big impact on sales if the company doesn't shift out of reverse soon. Over 200 state and local officials from 26 states, and over 285,000 petitioners, have called on Toyota and Fiat Chrysler to do just that by investing in clean transport innovation, not litigation trying to prop up the Trump administration's rollback.
If automakers need an example to follow, they should look no further than Ford, Honda, Volkswagen, BMW, and Volvo, who have been out in front supporting strong clean car standards and states' authority to adopt them. In August, these five manufacturers entered bilateral agreements with California that recognize the state's clean car authority and will prevent hundreds of millions of tons of climate pollution. The agreements earned the highest possible rating in EDF's new Climate Authenticity Meter. One company that has taken its commitment a step further is Ford, which recently supported California's bold commitment to make all new cars sold in the state zero-emitting by 2035.
As the growing support for transformative clean car standards shows, we face an incredible opportunity. Together, we can put a million Americans to work building the pollution-free cars that will make our air safer to breathe and steer us away from the climate cliff. We hope that all automakers will join us in pursuit of these shared goals.