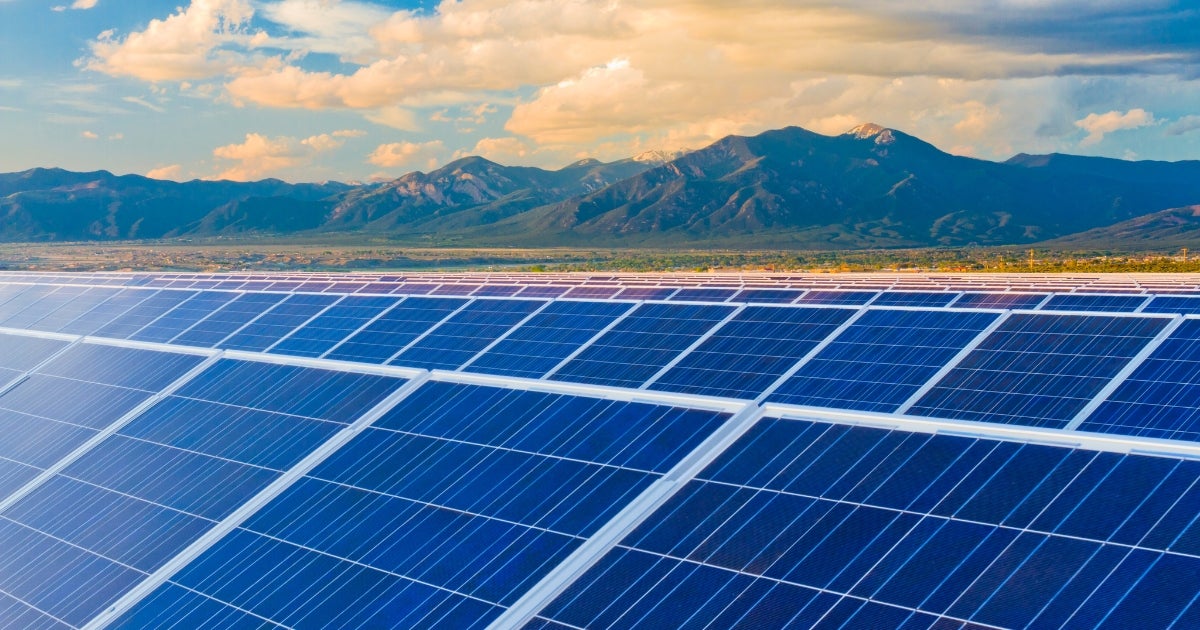 New Mexico communities know the stakes for climate change are high — hotter and drier conditions threaten public health, livelihoods, and cultural and recreational resources, as they lead to increased drought, extended and more extreme wildfire seasons, and extreme heat. Those impacts are projected to get much worse in the coming decades, without serious and urgent action to slash climate pollution. It's why polls underscore that the majority of New Mexico voters support strong action on climate change.
Governor Lujan Grisham has made bold, science-based climate commitments and both the legislature and regulators have adopted a number of important policies, but a new EDF analysis finds that with existing state and federal policies in place, New Mexico is projected to fall well short of achieving its 2025 and 2030 climate goals unless it takes aggressive climate policy action as soon as possible. The analysis also finds that the state's current course will lead to far more cumulative emissions through the end of the decade — a critical metric that ultimately determines the severity of climate damages that our kids and grandkids may face.
While New Mexico is projected to face a glaring "emissions gap" — the distance between emission reductions the state has committed to and those it is projected to achieve — the opportunity to correct course with bold action has never been greater. With historic federal investments lowering the cost of clean energy, New Mexico can leverage this momentum to put in place strong limits on pollution that secure a safer climate future and grow a prosperous, equitable clean energy economy.
Here's what you need to know about this analysis:
New Mexico's emissions gap
Since taking office, Gov Lujan Grisham has sought to establish New Mexico as a climate leader: committing the state to a 45% reduction in climate pollution by 2030 compared to 2005 levels, signing the Energy Transition Act into law, and initiating the state's first rules to curb methane emissions from the oil and gas industry. Gov Lujan Grisham also joined the U.S. Climate Alliance, a group of governors committed to reaching the goals of the Paris Agreement, which further committed New Mexico to pursue climate pollution reductions of at least 26% to 28% below 2005 levels by 2025 and 50-52% reductions below 2005 levels by 2030.
To determine where New Mexico stands on progress toward those commitments, EDF conducted an analysis using state-level greenhouse gas emissions data from the Rhodium Group. Rhodium's data also includes the projected emission reductions associated with both the federal Infrastructure Investment and Jobs Act (IIJA) of 2021 and the Inflation Reduction Act of 2022 (IRA).
EDF's analysis reveals that New Mexico is projected to reduce emissions approximately 1% by 2025 and 13% by 2030 from 2005 levels. That means the state is projected to make essentially no progress toward achieving the near-term target in 2025 and is projected to lower emissions by less than one-third of what is necessary to meet Gov Lujan Grisham's 2030 pollution reduction commitments.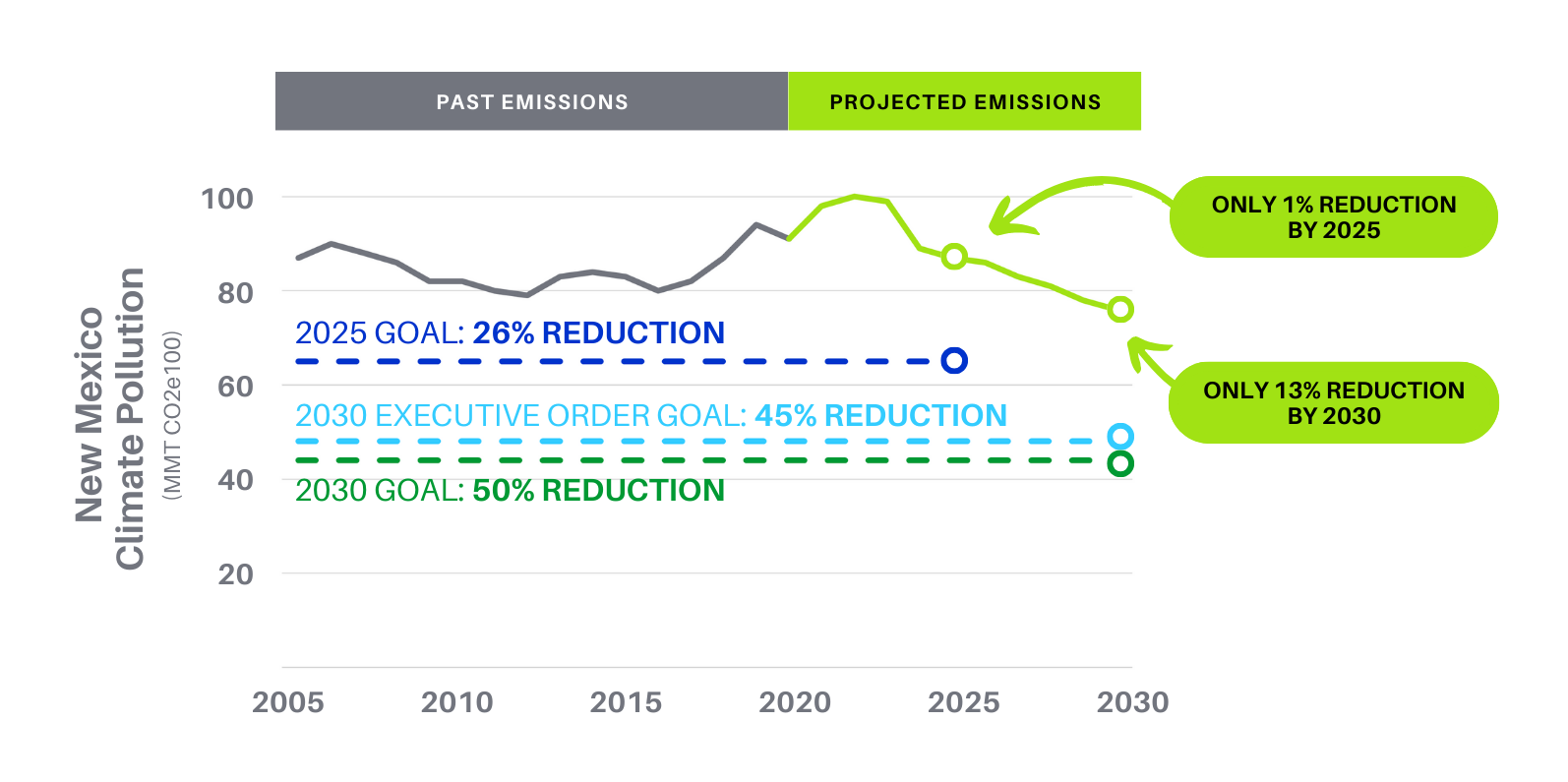 These findings echo what the state's own Climate Strategy report found in 2021: New Mexico is projected to fall short of its own commitments absent swift, strong action to limit pollution.
This lack of progress has severe and immediate consequences for the health of communities dealing with the daily burden of harmful air pollution. A recent study conducted by researchers at the University of New Mexico and funded by EDF found many of the state's largest emitters are not currently subject to climate regulation, and that pollution from those facilities disproportionately harms disadvantaged communities.
The climate pollution impact this decade
For the first time, EDF's analysis looked at how the state's current emissions pathway impacts cumulative pollution — the total amount of climate pollution that adds up year after year in the atmosphere and ultimately worsens climate damages.
To calculate this, we compared total emissions this decade to levels aligned with a declining, linear emissions trajectory assessed by the IPCC. New Mexico is estimated to add about 21% — 167 million metric tons — more climate pollution than if the state was reducing emissions in line with the latest science.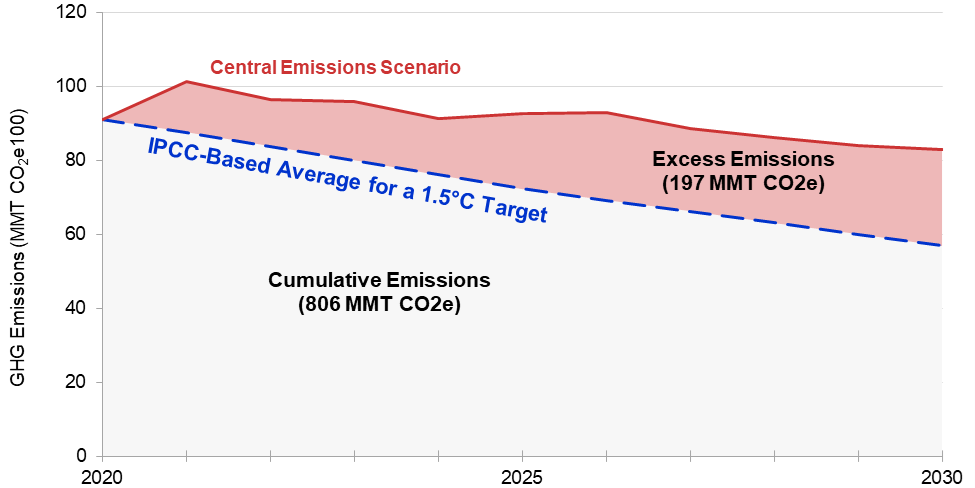 The bottom line: New Mexico needs to take urgent action to limit climate pollution.
Opportunities to close the gap
With historic federal investments in climate and clean energy now available, New Mexico's leaders have an unprecedented opportunity to act comprehensively in tackling climate pollution — unlocking greater climate ambition at a lower cost.
EDF looks forward to working with state leaders to accomplish our shared goals. Here's what leaders should do to close the state's emissions gap and secure a more prosperous and healthy future for all New Mexico communities:
Act now using existing authority to reduce pollution: The New Mexico Environment Department has broad authority to regulate pollutants under the Air Quality Control Act. It could put that existing authority to work — starting today — to pursue new regulations on the state's major sources of emissions.
Increase capacity at relevant state agencies: Most notably, the New Mexico Environment Department and the Energy, Minerals, and Natural Resources Department need more capacity to support a robust regulatory program designed to cut climate pollution.
Pass comprehensive climate change legislation capable of delivering concrete reductions in climate pollution consistent with the state's climate goals: Comprehensive climate legislation — that both makes the state's climate targets mandatory and gives agencies the direction they need to slash climate pollution — is critical to ensure that climate progress in New Mexico continues beyond the governor's current term. Without mandatory targets, climate action over the next three years could be stalled or rolled back by a future Governor, imperiling the state's progress.
Establish a clear vision and resources to support a just transition for the state's workers and communities: Any climate bill must prioritize driving benefits from the transition to a clean energy economy to disproportionately impacted communities. This means climate policies must include both guardrails to ensure protections for communities overburdened by air pollution and communities dependent on fossil fuel jobs, and investment in those communities that help create good-paying jobs.