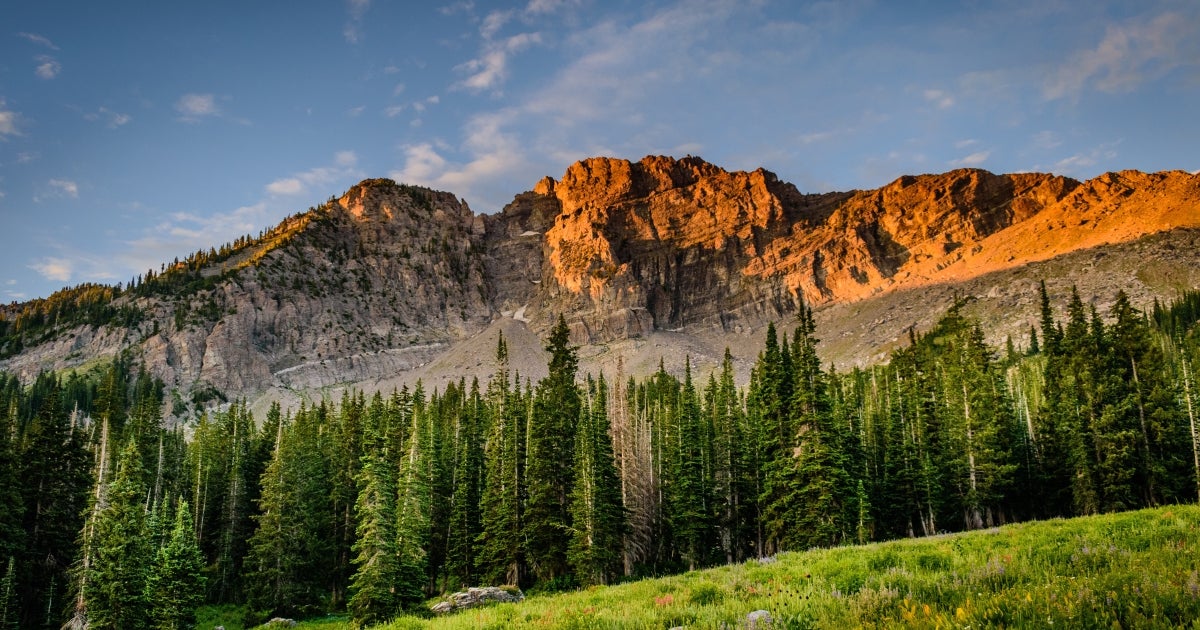 This blog was co-authored by Alex DeGolia, Director, U.S. Climate.
With historic federal climate investments in law, states are now in the driver's seat to leverage this funding to drive U.S. climate progress forward — adopting bold policies of their own that limit pollution, boost jobs and bring down energy costs.
States that have made climate commitments in line with U.S. goals under the Paris Agreement are in the best position to make a significant impact in cutting U.S. emissions. A new EDF report analyzes state emissions data from Rhodium and projected emission reductions from federal investments to determine how much closer these states could bring the country to its goals.
We find that leadership states could shrink the remaining gap to the U.S. national 2030 target by nearly half, if they adopt ambitious and comprehensive policies that achieve their own emissions targets.
To get there, governors and state leaders must shift policy action into high gear, as our analysis reveals these states are currently projected to collectively fall well short of their climate commitments.
The urgency — and the opportunity — for states to move from climate pledges to policy has never been greater. Here's what you need to know about the analysis:
The role of climate leadership states: securing pollution reductions
Many states have been in the position of climate leadership for years, stepping up at a critical time when the Trump administration pulled out of the Paris Climate Agreement and pressing forward with their own climate goals and policies. States that have made their own commitments to cut climate pollution in line with the U.S. Nationally Determined Contribution under the Paris Agreement make up 41% of total U.S. emissions.
The policy landscape has drastically changed since President Biden took office two years ago and implemented a "whole-of-government" approach to the climate crisis. The federal government is currently developing critical regulations to cut pollution across numerous economic sectors, including pollution from passenger cars and trucks, oil and gas operations, and fossil fuel power plants. And notably, last year, Congress passed historic investments to lower the costs and incentivize more deployment of clean energy technologies through the Bipartisan Infrastructure Law and the Inflation Reduction Act.
While modeling shows these investments are a key step toward meeting U.S. goals, potentially bringing nationwide climate pollution 32–42% below 2005 levels by 2030, there is a high degree of uncertainty around amount of pollution reductions they will secure. Critically, the clean electricity tax credits drive the majority of reductions projected from the IRA, but these economic models assume utilities will minimize the cost of generating electricity. In reality, numerous different factors — including how many electric utilities maximize shareholder returns — do not align with these optimized scenarios, meaning the projections are relatively optimistic.
Given the remaining gap to the U.S. target, not mention these uncertainties, states now have a crucial role to play in securing reductions by limiting climate pollution. Rapid progress in cutting pollution can help realize the promise of federal investments — locking in those reductions — and help close the remaining gap to our national goals. A previous Rhodium research note  in March underscored the vital importance of states moving the ball forward, stating "the 2030 target is entirely out of reach if states and other subnational actors neglect to adopt aggressive new policies to advance decarbonization."
How leadership states can help shrink the U.S. emissions gap in 2030
To evaluate states' progress on lowering climate pollution, EDF analyzed emissions data from Rhodium Group's U.S. Climate Service that incorporates projected reductions from the Inflation Reduction Act and Bipartisan Infrastructure Law, as well as additional state policies in place as of March 2023.
Our analysis finds that if leadership states were to successfully reduce emissions in line with their established targets, they would bring the country meaningfully closer to our national goals. Collectively, leadership states would shrink the U.S. emissions gap by 41% in 2025 and 43% in 2030 if they deliver on their commitments.
However, generating that collective impact requires that state leaders drastically step up ambitious and comprehensive policies to cut pollution in line with their goals. Currently, these states are only projected to reduce net emissions 20% to 23% below 2005 levels by 2025 and 27% to 39% below 2005 levels by 2030, compared to their commitments to reach at least a 26% reduction by 2025 and at least 50% by 2030.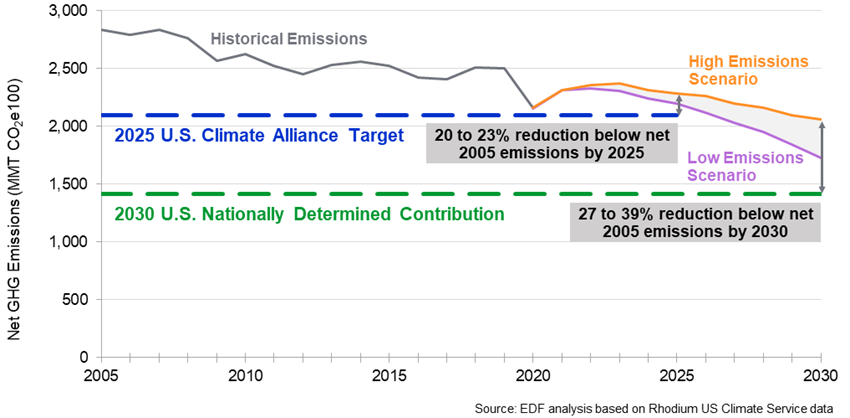 The impact on total climate pollution this decade
In addition to measuring progress on point-in-time targets, EDF's analysis looked at the cumulative impact of delayed action from leadership states.
Rapid action to reduce emissions of short-lived gases (e.g., methane pollution) plays a central role in slowing and limiting near-term warming, while rapid action to reduce emissions of long-lived gases (e.g., carbon pollution), which can stay in the atmosphere for centuries, is crucial for limiting the overall amount of warming we will experience. That's why the emissions trajectory, or the pace at which states curb emissions, is even more important than "hitting" a target in a specific year: Delayed action accelerates the rate of warming and adds more climate pollution to the atmosphere over time — intensifying the damages we will face.
Our analysis finds that states lag well behind the necessary pace of reductions. States are projected to emit 28% more climate pollution between 2020 and 2030 than a path aligned with their science-based goals — overshooting the emissions "budget" by over 5 billion metric tons of CO2 equivalent over the decade. The excess pollution from leadership states is equivalent to the emissions from nearly 1.2 billion cars driven for a year, or over 1,000 coal-fired power plants operating for a year — underscoring the profound implications for total climate pollution.
Clearly, leadership states must put policies in place that not only meet targets in 2025 and 2030, but also accelerate near-term reductions and limit cumulative pollution.
The policy toolkit to close the gap
With federal investments making clean energy technology cheaper than ever before, states have an unprecedented opportunity to secure cuts in pollution and drive our nation's progress forward. Here are key policy tools for states to get the job done:
Set binding targets that achieve early and deep reductions: States need to set themselves up for long-term success with mandatory targets that create an enforceable framework for reducing emissions at the pace and scale the climate crisis demands. Mandatory targets help lock-in progress, keeping future leaders from rolling back climate action. To date, only 10 states have established binding, economy-wide targets.
Ensure environmental and economic benefits are directed to disproportionately-impacted communities: Strategies for limiting climate pollution must be tailored to improve local pollution impacts and directly support clean energy deployment and economic benefits for the most overburdened and underserved populations. Strong community engagement throughout the policymaking process is essential — as demonstrated by New York's Climate Leadership and Community Protection Act, which established a working group of Environmental Justice communities across New York to help inform how benefits and investments from the law are harnessed.
Leverage existing authority to limit pollution: Regardless of state legislative action on emissions, governors committing to concrete pollution reduction targets can leverage existing authority to control air pollution to enact regulations that lower climate pollution. Former Oregon Governor Kate Brown used her authority to direct the state's environmental regulators to develop a program that caps Oregon's major sources of climate pollution.
Establish a declining, enforceable limit on emissions: A pollution limit is essential to provide a backstop for other complementary policies, guaranteeing the targeted emission cuts will be achieved, even if other policies fall short. Washington state set the most ambitious climate pollution limit in the nation, which covers all major sources of the state's emissions and declines in line with its goals.
Pair pollution limits with policies that catalyze development and deployment of clean technologies: Enforceable limits on climate pollution can work hand-in-hand with measures needed to accelerate clean technology deployment, like clean energy incentives, while providing the greatest possible certainty that states will reach their climate targets.
Consider an approach that puts a price on pollution: By pairing an enforceable pollution limit with a price on pollution, as the Regional Greenhouse Gas Initiative does, states can secure the needed level of emission reductions, while creating a price signal that incentivizes investments in clean energy technologies. It can also generate substantial benefits for communities most vulnerable to climate impacts and other environmental harms by reinvesting revenues into projects in these communities.
Read the full report: Turning Climate Commitments into Results: An Update on State-led Climate Action.