A new study developed by Roush Industries for EDF shows rapidly declining costs for zero-emission freight trucks and buses, underscoring the feasibility of rapidly deploying these vehicles that will help us save money, have healthier air, and address the climate crisis.
The study, Medium- and Heavy-Duty Electrification Cost Evaluation, analyzes the cost of electrifying vehicles in several medium and heavy-duty market segments, including transit and school buses, shuttle and delivery vehicles, and garbage trucks – vehicles that typically operate in cities where average trip distances are short and the health and pollution effects of transportation pollution are of particular concern. It projects the upfront costs of buying an electric vehicle instead of a diesel vehicle, and the total cost of ownership for electric vehicles in model years 2027 to 2030.
The study finds that a rapid transition to electric freight trucks and buses makes economic sense when considering both the upfront purchase cost and the total cost of ownership.
Upfront Costs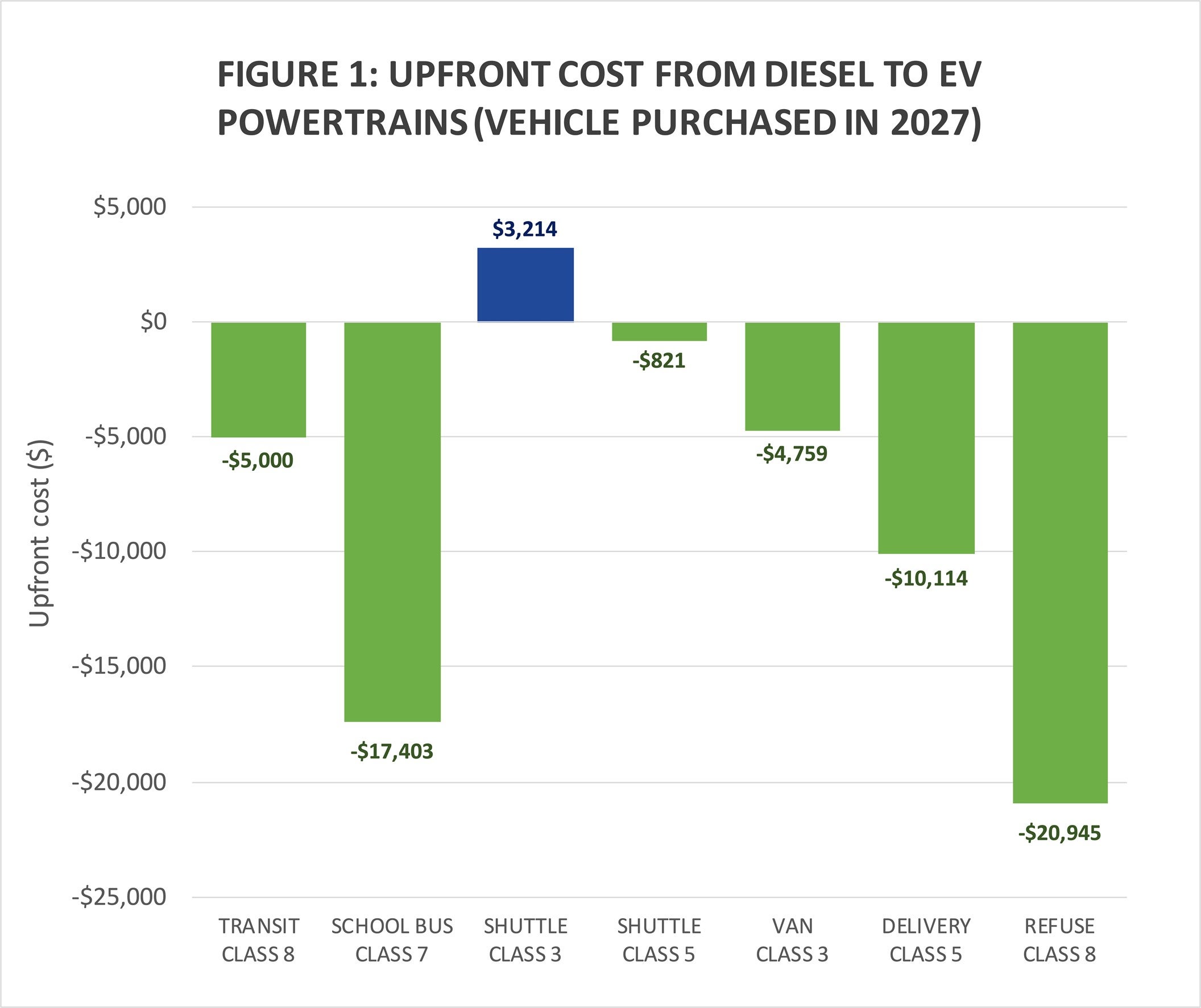 The chart above, from the study, shows that across almost all segments studied, electric vehicles would deliver upfront cost savings compared to diesel vehicles of the same segment at the time of purchase in 2027.
Total Cost of Ownership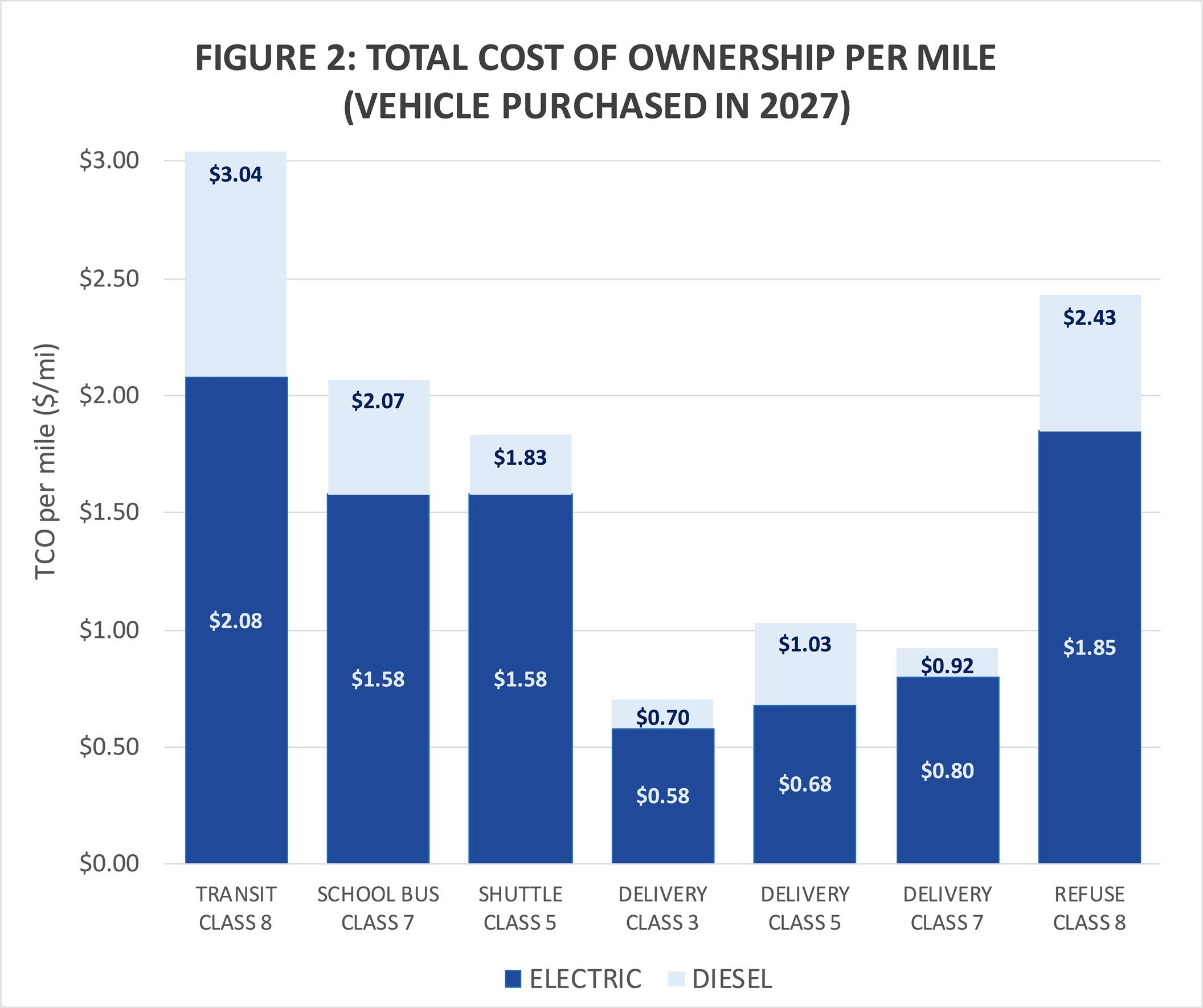 Another chart from the study (above) shows Roush's findings on the cost per mile of all financial aspects of ownership of each vehicle segment examined, if purchased in 2027. In all segments, the cost of owning an electric vehicle will be less than a diesel counterpart over the life of the vehicle. That's largely because maintenance and energy costs are significantly lower for electric vehicles than for diesel vehicles.
Total cost of ownership parity is immediate for a vehicle purchased in 2027 in all categories but Transit, Shuttle, and Class 7 delivery. (see the chart below) Transit reaches parity in the second year of operation, while the Shuttle and Class 7 delivery categories also reach parity quickly, within the third year of operation.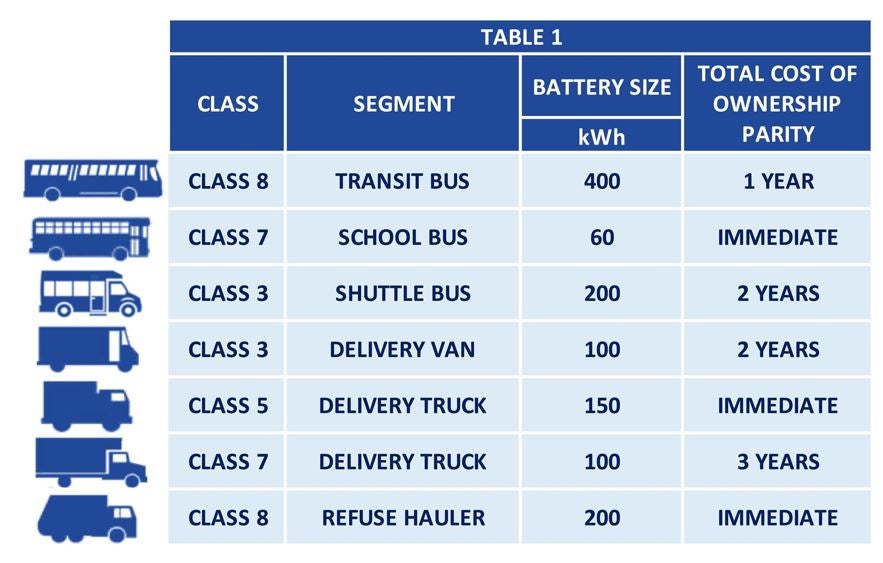 The study follows President Biden's historic Executive Order last August that directed EPA to develop standards to be completed in the next year for new heavy-duty vehicles manufactured in model years 2027 through at least 2030 and directed EPA to consider the role that zero-emission heavy-duty vehicles might have in reducing air pollution. Swift and protective EPA multi-pollutant standards are critically important, as near-term emissions reductions are vital to mitigating the effects of climate change and to public health, especially the health of low-income communities and communities of color disproportionately impacted by transportation air pollution.
The new study adds to an already compelling body of evidence supporting the feasibility of protective EPA heavy-duty vehicle emissions standards for model years 2027 to 2030. EDF recently released a factsheet documenting some of this evidence, including that major manufacturers including Daimler, Volvo, General Motors, Ford, and Cummins have made significant commitments and investments to transitioning to zero-emission freight trucks and buses, and that truck fleets across the country are enthusiastically embracing and making commitments to electric medium- and heavy-duty trucks. (This is the main finding of an EDF analysis of public announcements and known deployments of leading fleets including Walmart, FedEx, and Amazon)
In addition to the rapidly changing market for electric vehicle freight trucks and buses, the significant pollution reductions and resulting health and climate benefits they will deliver further underscore the urgent need to deploy these vehicles. Medium and heavy-duty vehicles comprise less than 10% of the U.S. vehicle fleet, but account for 23% of the nation's transportation sector climate pollution. Since a large portion of medium and heavy-duty vehicles are powered by diesel engines, they also account for almost 60% of the total nitrogen oxides (NOx) and particulate emissions from the transportation sector, which diminish air quality and cause severe health impacts. Electrification of the medium and heavy-duty fleet will result in not only a significant reduction in climate pollution, but also a marked improvement in air quality and health.
Another recent EDF report shows the health and environmental benefits of the transition to zero-emitting vehicles, finding that eliminating tailpipe pollution from new freight trucks and buses by 2040 would have significant climate pollution and local pollution benefits. These benefits include avoiding 224 million metric tons of climate pollution every year by 2040, avoiding 450,000 tons of ozone-forming NOx pollution annually by 2040, and avoiding 9,000 tons of particulate pollution annually by 2040. This pollution disproportionately impacts communities of color and low-income communities.
Our earlier report also finds that eliminating tailpipe pollution from new freight trucks and buses by 2040 would provide the nation with up to $485 billion in health and environmental benefits alone as a result of pollution reductions and prevent a total of 57,000 premature deaths by 2050.
Zero-emission vehicles are already available and cost-effective. Deploying zero-emitting medium and heavy-duty vehicles is critical to reach our health and climate goals. EPA must seize this opportunity in its forthcoming heavy-duty rule to protect human health and the environment for all people and all communities by setting standards that ensure greater deployment of zero-emission vehicles.