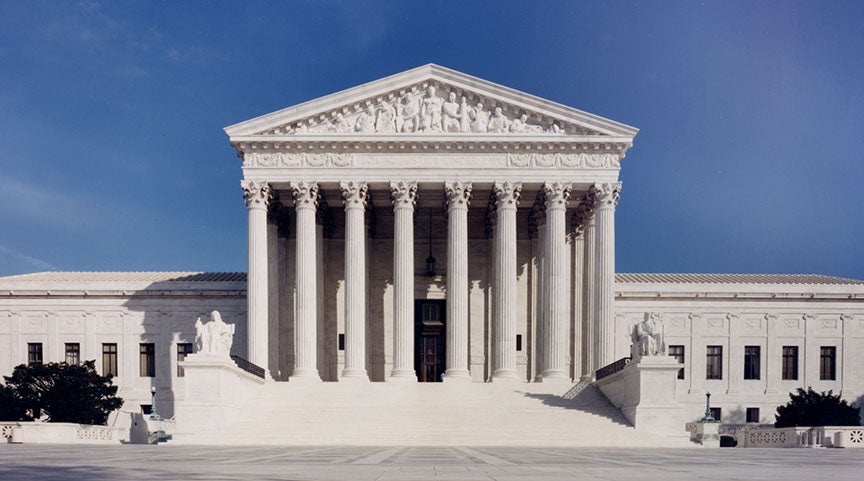 EPA's authority to safeguard human health and the environment is longstanding and well-established. But now there's a new case before the Supreme Court that threatens it.
The case was brought by coal companies and their allies, whose efforts to tightly constrict EPA's ability are not only alarming but also should not even be before the Supreme Court. That's why EDF is participating in the case (West Virginia et al. v. EPA) in support of the agency's clear authority and obligation to reduce climate pollution under the Clean Air Act. We joined other leading environmental groups and trade associations to file our merits brief in the case. Almost two dozen states and several cities, the federal government, and power companies that provide power to 40 million people in 49 states also filed in support of EPA.
The arguments made by the petitioners in this case do not articulate an actual, redressable injury. The case before the Supreme Court necessarily lacks this essential ingredient necessary for court review because the rule petitioners take issue with is not currently in effect. In fact, the rule has never been in effect.
Put simply, no actual dispute exists.
This case dates back to an Obama administration EPA rule designed to reduce climate pollution from existing power plants – the Clean Power Plan. Yet, as our brief points out, that rule "is not — and never has been — in effect." It was repealed by the Trump administration EPA and replaced with a dramatically weaker rule known as ACE.
Like the Clean Power Plan, the ACE rule is not in effect. It was rejected by the U.S. Court of Appeals for the D.C. Circuit on the eve of President Biden's inauguration. Later, the Biden administration EPA announced that it would issue a wholly new rule starting from a clean slate.
So neither the Clean Power Plan nor ACE is in effect, and neither rule causes or threatens any harm to petitioners. Nor is there even an abstract injury for petitioners to claim. As our briefs states, even if the Clean Power Plan were to go into effect,  "there would likely be 'no difference between a world where [it] is implemented and one where it is not.'" That's because the Clean Power Plan's emissions-reduction targets have already been met – and surpassed – through market-driven trends in the electric sector. Even petitioners acknowledge the Clean Power Plan is a "relic."
Because the case centers on a hypothetical rule, the petitioners' main arguments revolve around what EPA might do in a future rulemaking. This kind of speculative, anticipatory claim is antithetical to the role of United States courts. In fact, according to longstanding Supreme Court precedent, to rule on such a question would be unconstitutional. As the federal government made clear in its brief, "Petitioners in substance request an advisory opinion about the types of measures a future rule could permissibly contain — but federal courts are not authorized to render advisory opinions."
The Biden administration EPA has stated that it is working to craft a new rule to advance safeguards for climate pollution from power plants. Entities will have the opportunity to litigate that rule once finalized. But petitioners must wait for EPA to act in order to define the issues for judicial review and to avoid involving the Supreme Court in an exercise that would necessarily be centered on hypothetical concerns. Review is inappropriate in this context, and petitioners' abstract claims cannot be shoehorned into a case that simply lacks an actual 'case or controversy' fit for review as the Constitution requires.
In our brief, EDF and our allies make clear that the sweeping ruling coal companies and their allies seek here stands in stark contrast to the fundamental lack of actual dispute or injury. We strongly oppose petitioners' efforts to misappropriate this case as a vehicle to put novel restrictions on EPA's long-held authority, as well as the authority of a host of other expert agencies. We will continue to make clear EPA's authority to advance and enforce critical, lifesaving safeguards on climate pollution.
The Supreme Court will hear oral arguments in this case on February 28th. EDF has posted all the filings in the case on our website.
EDF's Jesse Hevia, Grace Weatherall, and Michael Panfil co-authored this post.