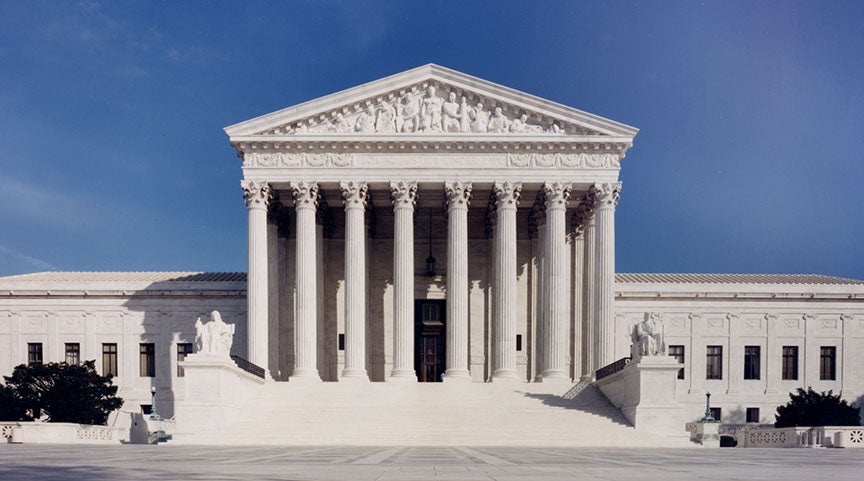 Coal companies and supporting states recently filed opening briefs in West Virginia v. Environmental Protection Agency, a case involving the Trump Administration's repeal of, and weak replacement for, the 2015 Clean Power Plan regulating carbon dioxide emissions from power plants.
Although neither regulation is in effect – indeed, EPA has indicated that it plans to adopt a new rule working from a clean slate — Petitioners seek to use this case to effect sweeping changes in longstanding legal doctrine and well-established norms. Petitioners are not only asking the Court to do extraordinary damage to EPA authority, but also set forth their arguments expansively so as to apply to a wide range of vital services and laws – turning this case into one broadly relevant to the ability for expert agencies to protect human health, the environment, and other public values.
These concerns are not theoretical. Petitioners have filed papers with the Supreme Court that argue that tight constrictions should be put around EPA's efforts to address climate change. What Petitioners seek stands in stark contrast to what this moment demands and ignores the fact that Congress intended EPA, through the Clean Air Act, to address big problems like nationwide air pollution coming from the country's largest industries.
These arguments are also out are out of touch with today's realities. Already one in three Americans are affected by extreme weather events, which climate change magnifies. The consequences of climate change are challenging all of society, be it through extreme drought affecting much of the western United States, power outages like those during Winter Storm Uri in Texas, flash flooding like during Hurricane Ida in Louisiana, or the roughly six million acres of land destroyed last year by wildfires.
These climate change harms extend beyond singular events and put us at risk from cascading damage. Multiple reports have found that America's "families, workers, and businesses large and small are vulnerable," that climate change poses "a major risk to the stability of the U.S. financial system and to its ability to sustain the American economy," and that climate change exacerbates existing societal inequity, disproportionately affecting low income communities and communities of color.
Impeding EPA's ability to act ignores these urgent challenges. It's the climate equivalent of impounding a firetruck during a five-alarm fire.
That Petitioners seek to broadly hamstring our nation's capacity to confront the climate crisis should not even be at issue before the Supreme Court. EPA has the authority and obligation to take action to protect public health and the environment. The Supreme Court has repeatedly affirmed as much, concluding that consistent with the Clean Air Act, EPA has the responsibility under the Clean Air Act to limit the pollution that causes climate change and regulate greenhouse gas pollution. Yet Petitioners hope that the Court will dramatically depart from settled law and legal interpretation, asking that it scrutinize rules for reasons such as the degree of "public attention to the issue."
Additionally concerning is the basis by which Petitioners request the court to act. Here, Petitioners have asked the court to depart from decades of established legal precedent and substitute it with a greatly expanded "major questions doctrine" – requiring that any expert agency rule of significance be subject to heightened review. This doctrine has typically applied only in the most narrow of circumstances, where an expert agency took action in highly consequential matters where there was reason for serious doubt that the agency had authority at all. This would not be at issue here; the Court has already confirmed that EPA has authority to regulate power plants' carbon dioxide emissions.
To undermine EPA's action, Petitioners thus seek to depart from this established understanding and substitute their own that would invalidate any regulation addressing such issues so long as challengers could characterize its implications as important.  This change in approach may sound arcane but would – if accepted – be a norm-breaking new development that would exchange agency accountability with free-wheeling judicial activism. This outcome would inject major uncertainty across the entire realm of federal law, diminishing the capacity and predictability of vital services and expert agencies.
Our nation must accelerate solutions to address climate change. Three in four  Americans support regulating carbon as a pollutant. So do American businesses – it's notable that despite the rule at issue being focused on carbon pollution from the power sector, a coalition of power companies have consistently filed in defense of EPA's authority.
EDF similarly and forcefully continues to oppose Petitioners, and will be filing alongside an array of entities next month in support of public health and EPA's authority to confront the climate crisis. Those entities include the Biden Administration, a number of states, power companies, and public health and environmental groups.
We also have all the briefs in the case publicly available on EDF's website. You can find everything here. And for more about this lawsuit, please see these posts from our partners at NRDC and Sierra Club.