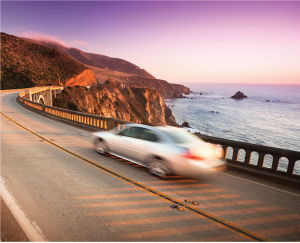 California just moved further down the road toward cleaner cars and vital air pollution reductions.
The state's Air Resources Board hosted a public workshop on the development of its Advanced Clean Cars II (ACC II) program last week, where it announced that it intends to propose multipollutant standards that will ensure all new cars sold in California are zero-emitting vehicles by 2035.
At the workshop, the Air Resources Board for the first time laid out a proposed trajectory for the ACC II program, charting a course for ensuring 60% of new vehicles sold in 2030 are zero-emitting and 100% of new vehicles sold by 2035 are zero-emitting.
The ACC II program will build from California's long history of advancing vehicle pollution reductions under Clean Air Act authority. If adopted, the draft standards described at the workshop will reduce health-harming pollution and climate emissions from new passenger vehicles beyond the 2025 model year and increase the number of zero-emission vehicles for sale. They will also reduce climate pollution, deliver jobs, save Californians' money, and – most important – save lives.
A recent EDF analysis found that ACC II standards that eliminate tailpipe pollution from new passenger cars by 2035 would:
Prevent more than 7,400 premature deaths cumulatively by 2050, mostly by reducing ozone-forming pollution and particulate pollution that disproportionately burdens people of color and low-income communities
Eliminate more than 1.2 billion tons of climate pollution through 2050
Save buyers of a new 2027 battery electric vehicle more than $9,000 over the life of the vehicle, compared to a gasoline-powered car
Save California almost $11 billion annually by 2040 in economic and pollution benefits, and $194 billion cumulatively by 2050
Next generation standards will also help California meet air quality requirements and climate goals as laid out in the 2020 Mobile Source Strategy, and fulfill Governor Newsom's September 2020 executive order setting a state target that all new passenger vehicles sold in California be zero-emitting by 2035.
California's leadership in pressing forward with these historic standards is a reminder of the critical importance of state authority under the Clean Air Act. The Trump Administration attempted to suddenly reverse the legal framework that has for over 50 years allowed California to adopt protective pollution safeguards for new motor vehicles – an action that was opposed in court by a broad and diverse coalition of stakeholders that included 24 states, thousands of cities and municipalities, major power and transportation businesses, and public health, medical, and environmental organizations including EDF (the litigation is now in abeyance).
Last month the Biden administration put clean cars back in drive. It released proposals from the National Highway Traffic Safety Administration and the Environmental Protection Agency to rescind the Trump-era regulations that had unlawfully declared state greenhouse gas and zero-emission vehicle standards preempted under federal law. Those agencies are now seeking public comment on their respective proposals. Ford has already stated that "we support the Biden Administration's recent actions as great first steps towards the restoration of California's authority to limit greenhouse gas emissions."
It is imperative that the Biden administration swiftly finalize actions to restore the Clean Air Act waiver for California's greenhouse gas and zero-emission vehicle standards to ensure states can continue using these standards as a crucial tool to achieve the emissions reductions we so urgently need. States have also led the way in calling for ambitious federal standards. A bipartisan coalition of Governors has just called on President Biden to accelerate deployment of zero-emission vehicles through strong pollution standards that ensure all new passenger cars and trucks are zero emission vehicles no later than 2035. Senator Tom Carper, Chairman of the Senate Committee on Environment and Public Works recently called for EPA to eliminate tailpipe pollution from new cars by 2035.
At last month's Earth Day summit, the Biden Administration sought to reestablish U.S. leadership on climate with the announcement that the U.S. would reduce nationwide greenhouse gas emissions 50% below 2005 levels by 2030. This ambitious commitment will necessitate deep reductions from the transportation sector. Another EDF analysis conducted earlier this year found that securing new zero-emission vehicle sales nationwide by 2035 would prevent as many as 98,000 premature deaths across the country through 2050. It would also eliminate 11.5 billion tons of climate pollution cumulatively by 2050, and save the nation nearly $1.6 trillion in economic and pollution benefits cumulatively by 2050.
There is additional momentum in the private sector, including multibillion dollar investments by Ford, GM, and Volvo and important growth in U.S. jobs. A recent report by M.J. Bradley and Associates on the electric vehicle market found that automakers are investing $268 billion worldwide on electrification through 2030, with over $22 billion on domestic manufacturing. The U.S. currently has more than 273,000 jobs linked to clean vehicles and hybrids, including more than 40,000 jobs in California. Jobs in the electric vehicle industry alone grew more than six percent in 2020. Automakers have announced passenger car and heavy-duty electric vehicle investments in states across the country, including Michigan, Tennessee, Indiana and North Carolina.
It is critical that we capitalize on the momentum created by these advances and private sector investments in electric vehicle technology. Last week's actions in California will help us accelerate more quickly toward a world where we've eliminated harmful tailpipe pollution from new passenger vehicles. The Biden administration must also swiftly and durably restore traditional and long-standing state authority to reduce motor vehicle greenhouse gas pollution, and address the pressing work of ensuring national policies are in place that support all new cars, trucks and SUVs being zero-emitting by 2035.
Now is the moment for ambitious state and federal action on zero-emission vehicles. The market is ready, and Americans can't afford to wait.