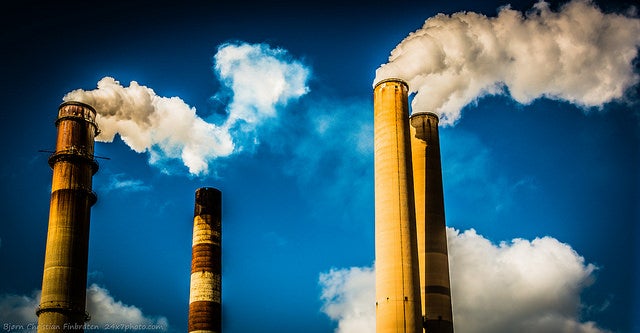 Acting EPA Administrator Andrew Wheeler is reportedly planning to all but abolish one of America's most important climate protections: the Clean Power Plan, our only nation-wide limits on carbon pollution from existing power plants.
Though Wheeler might claim that he is offering a Clean Power Plan "replacement," his reported plan would forfeit the tremendous benefits of the Clean Power Plan—and instead provide little to no reduction in climate pollution.
Even as impacts of climate change are ravaging our nation and world, the reported proposal would exacerbate the harms our families are facing—harms like severe heat waves, deadly wildfires, coastal flooding, and violent storms.
Astoundingly, Wheeler might issue this new proposal just weeks after his proposal to roll back America's Clean Car Standards—a disastrous action that would increase climate pollution by over two billion tons through 2040, and cause owners of cars and trucks to pay as much as $8,000 more for gas over the lifetime of their vehicles.
If Wheeler finalizes these proposals, he would leave our families and communities more vulnerable than ever to the harmful impacts of climate change. And he would flout EPA's clear legal obligation—upheld three times by the Supreme Court—to protect Americans from dangerous climate pollution. 
Climate change demands urgent action.
The devastating heat waves, wildfires, and droughts of the past few months have been a brutal showcase of the catastrophic impacts that will increase as climate change intensifies. Nine years have passed since EPA issued a scientific determination that greenhouse gases endanger Americans' health and welfare. Since the Clean Power Plan was finalized in 2015, the evidence that climate pollution threatens Americans has only grown—a conclusion that even the Trump Administration's Climate Science Special Report has confirmed. The crisis we are facing is clear, and so is the urgent need for Administrator Wheeler to carry out his responsibility to take meaningful action.
EPA has a legal obligation to protect Americans from dangerous climate pollution.
EPA's authority and obligation to reduce climate pollution has been settled law for well over a decade. In Massachusetts v. EPA (2007), the Supreme Court held that greenhouse gases like carbon dioxide "without a doubt" qualified as air pollutants under the Clean Air Act. In American Electric Power v. Connecticut (2011), the Court unanimously held that the Clean Air Act "speaks directly" to the problem of climate pollution from power plants. And in Utility Air Regulatory Group v. EPA (2014), the Court stood by its finding that the Clean Air Act covered climate pollution from power plants.
Concerned citizens and conservation and environmental groups first petitioned EPA to regulate climate pollution under the Clean Air Act nearly twenty years ago. Since then, opponents of climate action have engaged in a cynical, opportunistic shell game to oppose reducing climate pollution in any form. For instance, to avoid lawsuits for common-law nuisance, they successfully argued to the Supreme Court that climate pollution from power plants should instead be controlled under section 111(d) of the Clean Air Act—only to cry foul when EPA took up their suggestion. Wheeler must not continue to evade EPA's obligation to control climate pollution. He has a duty to act now.
The Clean Power Plan would save lives and improve health for all Americans.
As Administrator Wheeler deliberates on his reckless rollbacks, American lives are on the line. The Clean Power Plan would result in significant reductions of dangerous air pollutants like particle pollution and ozone, which would prevent up to 90,000 childhood asthma attacks, 1,700 heart attacks, and 4,500 premature deaths every year. That's on top of the 32 percent reduction in carbon pollution from existing power plants once the Clean Power Plan is fully implemented, compared to 2005 levels. Furthermore, the Clean Power Plan would encourage investments in energy efficiency that would actually lower electric bills by about $85 per year. According to reports, EPA acknowledges that Wheeler's plan would increase soot and smog, as well as climate pollution, relative to the Clean Power Plan.
But rather than preserve these benefits and embrace the opportunity to achieve even greater reductions in climate pollution, Administrator Wheeler will reportedly ask Americans to regress to having no meaningful limits on climate pollution from power plants.
Wheeler might propose a "limit" that would actually increase carbon pollution.
According to media reports—and in line with former Administrator Pruitt's advance notice of proposed rulemaking from last December—Wheeler might try to base pollution limits on a narrow set of modest efficiency improvements to power plants. That would violate EPA's legal obligation to set limits based on a thorough, reasoned assessment of pollution reduction opportunities. What's more, the modest efficiency gains could make coal plants cheaper to operate, without significantly reducing pollution. Perversely, these still-dirty plants might then increase their generation, at the expense of cleaner sources of power, resulting in higher levels of climate pollution.
Wheeler's proposal would fly in the face of recent progress in the power sector.
A proposal to weaken U.S. climate protections would come at a time when the industry is taking unprecedented steps to deploy clean, low-carbon energy solutions—solutions consistent with the measures in the Clean Power Plan:
DTE Energy Co. announced plans to curb its carbon pollution more than 80 percent by 2050 by closing coal-fired power plants and adding new gas-fired generation and renewables. The company observed that its carbon pollution reductions would exceed those required by the Clean Power Plan.
Xcel Energy set a goal of achieving a 60% reduction in carbon pollution by 2030, relative to 2005 levels, far exceeding the Clean Power Plan targets. In addition, Xcel's massive new investments in renewable energy will help the company generate 40% of its energy from renewables by 2021.
Any replacement of the Clean Power Plan must provide Americans with even greater protection from harmful climate pollution.
When setting pollution limits under the Clean Air Act, EPA is required to determine the "best system of emission reduction" in order to achieve maximum feasible control of the pollutant in question. A legally and technically sound replacement would need to incorporate up-to-date information on the costs and feasibility of reducing pollution from power plants, which overwhelmingly shows that the power sector can achieve far deeper pollution reductions than the Clean Power Plan requires.
The power sector is now expected to reduce carbon pollution 28% below 2005 levels by 2030 under current trends. Meanwhile, renewable energy and other pollution-reducing options continue to become more abundant and less expensive. As a result, the U.S. Energy Information Administration's latest analyses show that with the right regulatory incentives in place, the power sector can cost-effectively reduce carbon pollution to 68% below 2005 levels by 2030—over two times the level of reduction required in the Clean Power Plan. Any new rule to revise the Clean Power Plan must therefore provide Americans with even greater protection from harmful climate pollution.
Wheeler's reported proposal would completely ignore the facts on the ground, requiring far less pollution reduction than the power sector has already demonstrated it can achieve. Rather than set ambitious pollution limits as the law requires, Wheeler would settle for bringing recent progress to a virtual halt.
The Clean Power Plan has broad and diverse support.
In an analysis from Yale University, 70% of Americans—and a majority in every Congressional district in the country—expressed support for "strict" limits on carbon pollution from existing power plants. Leaders across America have also stepped up to support the Clean Power Plan—including the attorneys general of nineteen states and the District of Columbia, 244 mayors representing 51 million Americans, public health professionals, business organizations, consumer advocates, clean energy associations, electric grid experts, and many more. These supporters realize that the Clean Power Plan is an achievable, lawful, and highly beneficial approach to the most important environmental challenge of our time.
The harmful impacts of climate change are already manifest around the world. As power plants emit more and more climate pollution, they increase the severity of these harms for both current and future generations. We still have a chance to avoid the very worst impacts, but our window of opportunity is closing. We can't let Administrator Wheeler slam it shut.