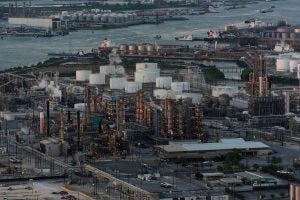 Residents of Houston, Texas – our nation's fourth largest city – have long been burdened with a serious air pollution problem.
Between 2013 and 2015, the Houston area reported unhealthy levels of ground-level ozone ("smog") on an average of over 23 days each year. Last year, the American Lung Association ranked Houston as the sixteenth-most polluted city in the nation for year-round particle pollution.
The city's massive industrial base – which includes two of the nation's four largest petroleum refineries and more than 400 chemical manufacturing plants – spews a wide array of carcinogenic and toxic substances like benzene, 1,3-butadiene, and formaldehyde. The Environmental Protection Agency's latest National Air Toxics Assessment, not surprisingly, found elevated cancer risks in many Houston neighborhoods as a result of these pollutants.
Recent records also show that pollution releases from these industrial facilities in the wake of Hurricane Harvey are also much higher than initially reported.
Yet EPA Administrator Scott Pruitt, rather than working to reduce this dangerous pollution, has opened the door to even greater risks to public health.
On January 25th, Pruitt's EPA abruptly overturned a long-standing policy that was designed to prevent large industrial sources from increasing their emissions of hazardous air pollutants such as benzene. Under the new policy, many industrial facilities that are now subject to tough emission standards for "major" sources would be allowed to become subject to weaker emission standards, or even avoid federal emission limits altogether.
This dangerous new "Air Toxics Loophole" was issued without any opportunity for public comment, and with no consideration of its public health or air pollution impacts.
That's why, we joined with six other public health and environmental organizations last month to file a legal challenge to the Air Toxics Loophole in a federal court of appeals
Today, we are releasing a white paper that takes a closer look at what the Air Toxics Loophole might mean for emissions of hazardous air pollutants in the Houston-Galveston area. We used EPA's own enforcement and compliance database, EPA's most recent National Emissions Inventory (NEI), and a careful review of federal permitting records to identify facilities that might be able to take advantage of the Air Toxics Loophole – and to estimate what the potential emissions impact might be.
The results aren't pretty. In the Houston area alone, we identified 18 facilities that are potentially eligible to use the new Air Toxics Loophole. These facilities collectively emitted approximately 183 tons (366,000 pounds) of hazardous air pollutants in 2014. If all of these facilities exploited the Air Toxics Loophole to the maximum degree, we estimated that annual hazardous air pollution from these facilities would increase by almost two-and-a-half times – to a total of about 450 tons (900,000 pounds).
Many of these facilities are located in communities that are highly vulnerable to the harmful impacts of air pollution: half are located in areas where more than one in five people live in poverty and where people of color make up more than 30 percent of the population. On average, almost 20,000 people live within three miles of each facility in our dataset.
We aren't the only ones to point out the potential risks of the Air Toxics Loophole. A report issued by the Environmental Integrity Project last month identified twelve additional facilities across the Midwest that could take advantage of the Air Toxics Loophole – and estimated that emissions from those facilities could more than quadruple to 540,000 pounds per year if they were to do so.
EPA's own staff have pointed out the risks as well. Under the George W. Bush Administration, EPA floated – but never finalized – a proposal that was very similar to the Air Toxics Loophole. EPA received critical comments from state air regulators and EPA's regional offices that raised the same concerns about the potential increases in toxic air pollution.
That Administrator Pruitt has decided to plow ahead again despite those warnings, and with no public input and no analysis of health impacts, is unconscionable. The results of our Houston analysis underscore how reckless that decision was.
Unfortunately, this isn't the first time this EPA has denied the public an opportunity to participate in a major decision that will impact so many lives. Over the last year, EPA has taken a series of actions to roll back important safeguards, often at the demand of industry representatives, with no opportunity for the public to comment. Luckily, courts have been serving as an important backstop and are rejecting agency actions taken with disregard for required administrative procedures.
Let's hope that the Air Toxics Loophole meets the same fate.
Photo: Manchester Ship Channel in Houston. Credit: Garth Lenz/International League of Conservation Photographers