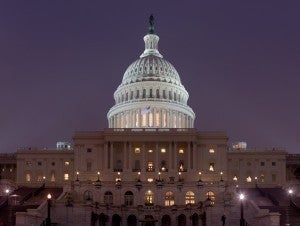 Congress is on the verge of passing an omnibus spending bill for 2016, and the headlines will be that lawmakers — in a modest victory for common sense – are doing their job and avoiding another disastrous government shutdown.
What's in the omnibus bill is important, of course. But just as important is what's not in it.
Left on the cutting room floor were a host of objectionable rollbacks that were jammed into various pieces of appropriations bills. That's a testament to both the courage of pro-environment negotiators in Congress and the White House, and to the growing political power of environmental issues.
The loudest threat against the environment was Senate Majority Leader Mitch McConnell's campaign pledge to block the Environmental Protection Agency's (EPA) Clean Power Plan. Never mind that this would mean unlimited carbon pollution from the nation's power plants, more asthma attacks, more smog, and more climate change.
But McConnell's threat was far from the only danger. Among the potential "riders" – rules in the bill meant to change or block policies – were ones designed to:
Block efforts to ensure that waters protected under the Clean Water Act are clearly and consistently defined
Stop EPA efforts to strengthen public health protections against ground-level ozone pollution (better known as "smog")
Block efforts to ensure that the impacts of greenhouse gas emissions are calculated consistently, and are appropriately considered in federal environmental planning decisions
Require EPA to deem any biomass energy project as carbon neutral – even if the science didn't support that decision
Block the Bureau of Land Management from improving environmental and safety standards for the use of hydraulic fracturing on federal lands
Bar the Administration from helping poor countries deal with drought, rising sea levels and other threats exacerbated by climate change
Stop EPA's ability to require industry to phase out hydrofluorocarbons and other refrigerants that damage the ozone layer
This is a sampling of the proposals that would have represented serious setbacks for the work being done to responsibly clean our air and water and protect our environment for future generations.
The fact that these proposals didn't make it into the final omnibus bill is a testament to everyone across America who has spoken up against these attacks. It's also the latest piece of a remarkable recent winning streak for the environment, from the Clean Power Plan to the blocking of the Keystone XL pipeline to the breakthrough climate pact in Paris.
There is additional good news in that important tax incentives for wind and solar energy are extended in the omnibus bill into 2016 and beyond, as are vital funds for land and water conservation.
There's no question that Congress is failing its larger responsibility to protect public health and the environment. But for now, we need to celebrate these victories that stop efforts to take us in the wrong direction. They are important wins for a cleaner future for our kids and grandkids.