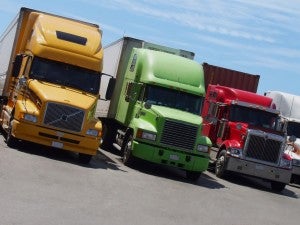 Our nation is making great progress in reducing the environmental impact of trucking.
This is tremendous news, of course, as trucking – the main method of transporting the goods and services we desire – is critical to the fabric of our society.
Consider these facts:
We're making major progress because of a team effort from truck and equipment manufacturers, fleets, policymakers, and clean air and human health advocates. With protective, long-term emission standards in place, manufacturers are investing in developing cleaner solutions and bringing them to market. Truck fleets are embracing new trucks because of lower operating costs and improved performance.
(For a more detailed picture of the widespread support for cleaner trucks, see EDF's list of quotes supporting recent national Clean Truck standards.)
We must continue this team effort to make further necessary improvements in the years ahead.
Despite our recent progress, diesel trucks continue to be a leading source of NOx emissions, which is why a number of leading air quality agencies across the nation, health and medical organizations, and more than  30 members of Congress are calling for more protective NOx emission standards.
Trucks are also a large and growing source of greenhouse gas emissions. Thankfully, the new fuel efficiency and greenhouse gas standards mentioned above – which were released this past August and just published in the Federal Register today – will cut more than a billion tons of emissions.
Trucking fleets are embracing cleaner trucks. UPS, for example, is expanding its fleet of hybrid delivery trucks. PepsiCo, Walmart, Kane and others have applauded strong fuel standards for trucks.
Manufacturers are developing solutions to further improve the environmental footprint of trucking.
In the past few weeks alone:
Cummins unveiled a 2017 engine that cuts NOx emissions 90 percent  from the current emission standard.
Volvo Trucks North American showcased its entry to the DOE SuperTruck program, which is  a concept truck capable of surpassing 2010 efficiency levels by 70 percent and exceeding 12 miles per gallon.
Navistar also revealed its SuperTruck, the CatalIST, which hit a remarkable 13 mpg.
The progress we've made to date does more than just improve conditions within the U.S. Our strong standards push U.S. manufacturers to develop solutions that will resonate with international markets. For example, the European Union, Brazil, India, Mexico, and South Korea all are exploring new fuel efficiency and greenhouse standards for big trucks. U.S. manufacturers will be well positioned to compete in markets that put a premium on fuel efficiency.
In the coming years, we will need to continue to advance protective emission standards to protect the health of our communities and safeguard our climate. When the time comes, we will be building upon an impressive record of progress and cooperation.