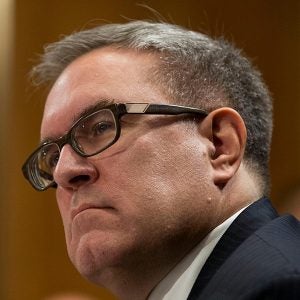 Sad but true: since he became acting head of the U.S. Environmental Protection Agency (EPA), Andrew Wheeler has ramped up Scott Pruitt's relentless attack on public health and environmental safeguards.
Wheeler is leading efforts to severely weaken or altogether eliminate meaningful limits on the largest sources of climate pollution – including cars, power plants, and oil and gas production. He is undermining policies that protect against toxic and smog-forming air pollution. He is systematically weakening the new bipartisan law that protects Americans from toxic chemicals.
These rollbacks risk thousands of additional early deaths and hundreds of thousands of additional asthma attacks every year.
After Scott Pruitt's disastrous tenure, EPA needs a leader who will return to the agency's life-saving and essential mission of protecting communities from harmful pollution. Yet President Trump has said he will nominate Andrew Wheeler to officially serve as EPA Administrator.
Wheeler's existing record as Acting Administrator shows he is hostile to EPA's mission and would double down on attacking core safeguards. He is unfit to lead EPA.
Here are a dozen safeguards Wheeler has attacked in his six months as acting head of EPA. This isn't an exhaustive list — unfortunately there are other vital protections Wheeler has attacked, further imperiling clean water, clean air, and healthy communities across America.