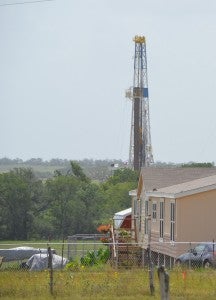 Legal fellow Jess Portmess also contributed to this post.
Unlike an oil spill, most greenhouse gas emissions are invisible to the naked eye. Though we can't see them, this pollution represents a daily threat to our environment and communities, and it is important to understand the extent of this pollution and where it comes from.
This is why in 2010 the Environmental Protection Agency (EPA) finalized a rule requiring facilities in the oil and gas industry to report yearly emissions from their operations.
The Rule is part of a larger greenhouse gas measurement, reporting, and disclosure program called for by Congress and signed into law by President George W. Bush. By coincidence, the rule is known as Subpart W.
The emissions data required by the Rule helps communities near oil and natural gas development better understand pollution sources, and gives companies better ways to identify opportunities to reduce emissions.
As these policies have gotten stronger under the Obama administration, industry has continued to fight them in federal court.
Shedding light on methane
One of the greenhouse gases covered by Subpart W is methane, which a substantial body of research shows is leaking at a significant rate from oil and natural gas infrastructure. Methane is a powerful air pollutant, over 80 times more potent than carbon dioxide in the first 20 years after it is emitted. And, as the primary component of natural gas, methane emissions represent a waste of a valuable energy resource.
In January, the Obama administration announced that several federal agencies will take actions aimed at reducing harmful methane emissions. As part of those actions, this summer, EPA will propose standards including direct regulation of methane from the oil and gas sector—an action that is urgently needed to begin reducing this pollution.
Strengthening reporting
The reporting requirements have led to a better understanding of methane emissions from the oil and gas sector, though there are important opportunities to continue to strengthen the program to provide communities and stakeholders with additional transparency, and deepen understanding of emissions from these sources. In fact, the administration has recognized the importance of improving data and transparency as part of Subpart W, both in its 2014 Strategy to Reduce Methane Emissions and in its recently announced goal to reduce methane emissions.
That's why EPA has recently moved forward with two actions to strengthen greenhouse gas emissions reporting:
First, in December 2014, EPA proposed to strengthen requirements for emissions reporting by requiring reporting from sources previously not covered by the rule.
Deepening understanding of emissions from these sources (which include completions at oil wells, emissions from gathering and boosting systems, and transmission pipeline blowdowns between compressor stations) is especially critical given the increasing growth of emissions in so-called "tight-oil" formations like the Bakken and Eagle Ford shale and the already significant (and growing) national network of gathering and boosting infrastructure.
In fact, a recent study led by Colorado State University and funded in part by EDF found that gathering and boosting facilities have significant methane leaks, which were especially high when compared to other sources that, unlike gathering and boosting, were required to undertake comprehensive leak detection and repair.
EDF, along with colleagues in other organizations, submitted comments last week on the proposed rule urging the adoption of these improvements and recommending additional ways to strengthen reporting from these sources.
Last fall, EPA also finalized a rule that will increase the quality and uniformity of the reported oil and natural gas emissions data.
Under additional changes finalized in November 2014, companies (with limited exceptions) can no longer use non-standardized and unreliable measurement methods (known as best available monitoring methods or BAMM) when recording and reporting emissions from their operations. The change is an important step forward, which will allow for more rigorous, comparable emissions data and improve the transparency of the reporting program.
Industry pushes back on the recently-finalized rule
The American Petroleum Institute (API) has filed a legal challenge to EPA's rule removing BAMM in the U.S. Court of Appeals in Washington, D.C. At the same time API is claiming the recently announced clean air measures are not needed to reduce oil and gas sector methane emissions, it is suing in court to prevent transparent understanding of those emissions.
This isn't the first time API has taken legal action to block public transparency in the oil and natural gas sector—this is the third in a series of such lawsuits API has filed seeking to impede the meaningful assessment and disclosure of emissions data.
Last week EDF, along with our colleagues in other organizations, filed a motion to intervene in the lawsuit to defend EPA's strengthened standards and support the public's fundamental right-to-know about harmful methane emissions from the oil and natural gas sector.
Fostering the adoption of monitoring technologies
To build on the emissions information and transparency created by Subpart W reporting, EPA should also take additional actions to deploy proven technologies that can directly and transparently measure and quantify leaks, as provided for in the administration's January announcement. Equipment leaks are the largest source of emissions, as identified by ICF International—both system-wide and also due to super emitters which account for substantial, additional emissions. Directly monitoring these leaks is critical to further improve understanding of emissions from these sources, promote accountability, and enhance transparency.
Rigorous, transparent data is the foundation for protecting public health and the environment from harmful emissions. EPA has taken two critically important steps to strengthen emissions reporting from the oil and gas sector, and we urge the agency to build on these two recent improvements, and continue to ensure the public has full, timely, and reliable information about the scope and sources of oil and gas emissions.
Photo credit: Earthworks
This post originally appeared on our Energy Exchange blog.