Yesterday, coal interests petitioned the United States Supreme Court to review and overturn the nation's landmark climate pollution standards for passenger cars and trucks.
These Clean Car standards are already reducing greenhouse gas emissions, while driving down our dependence on foreign oil and saving American families money at the gas pump.
They are broadly supported by the U.S. auto manufacturers, the United Auto Workers, national security experts, the Consumers Union, and numerous states.
A three-judge panel of the U.S. Court of Appeals for the D.C. Circuit unanimously upheld these common-sense standards on June 26, 2012. But some coal interests want to turn back the clock on actions that the courts have already deemed "unambiguously correct."
Yesterday, in its petition to the High Court, the "Coalition for Responsible Regulation" attacked the foundation of our nation's Clean Car standards. (You can read more about this industry group here)
These seriously misguided legal claims attack the critical societal benefits of the Clean Car standards for model years 2012 to 2016 and a second round of Clean Car standards for model years 2017 to 2025.
Together, the Clean Car standards will almost double the current fuel economy performance of cars on American roads – to an unprecedented fleet wide average of 54.5 miles per gallon by 2025.
That increase in fuel economy will be a huge financial benefit for American families. They'll save an average of more than $8,000 in fuel costs over the life of a new car and ensure our country will see $1.7 trillion dollars in fuel savings.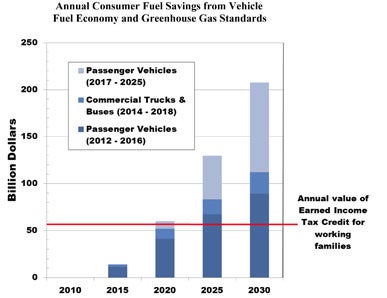 For families purchasing a model year 2025 vehicle, this will be equivalent to lowering the price of gas by approximately $1 a gallon.
The Clean Car standards will also reduce carbon dioxide pollution by more than 6 billion metric tons over the life of the program – comparable to the total emissions from the United States in 2010.
These standards will reduce oil consumption by an estimated 2 million barrels a day in 2025 – as much as half of what we import from OPEC each day.
But we won't have to wait until 2025. We're already seeing significant efficiency improvements.
EPA's preliminary data for model year 2012 cars shows the largest annual fuel economy improvements since EPA first began tracking this kind of data back in 1975. And in March 2013, the average fuel-economy sticker value of new vehicles sold in the U.S. was a record-high 24.6 mpg.
All of this is happening without loss of consumer choice, as more SUVs, minivans, and pickups beat the 20 mile per gallon benchmark, and new technologies such as hybrids are more commonly available.
In other words, our automotive industry can — and is — meeting the challenging of providing fuel efficient, low emitting passenger cars that consumers want to buy.
That's why automakers are not appealing the case.
In fact, the Alliance of Automobile Manufacturers – an association of 12 vehicle manufacturers including Chrysler, Ford, and General Motors – supports the clean cars standards.
Here's what their spokeswoman, Gloria Bergquist, said when EPA's greenhouse gas rules were upheld last summer:
Automakers are already producing almost 300 highly fuel-efficient models, so we have made a huge investment in technologies and want to sell these models in high numbers.
It's time for these obstructionist coal interests to end the litigation. America is moving forward, together, with innovation that will strengthen our nation's security, our economy and our environment.
(EDF's Peter Zalzal contributed to this post)