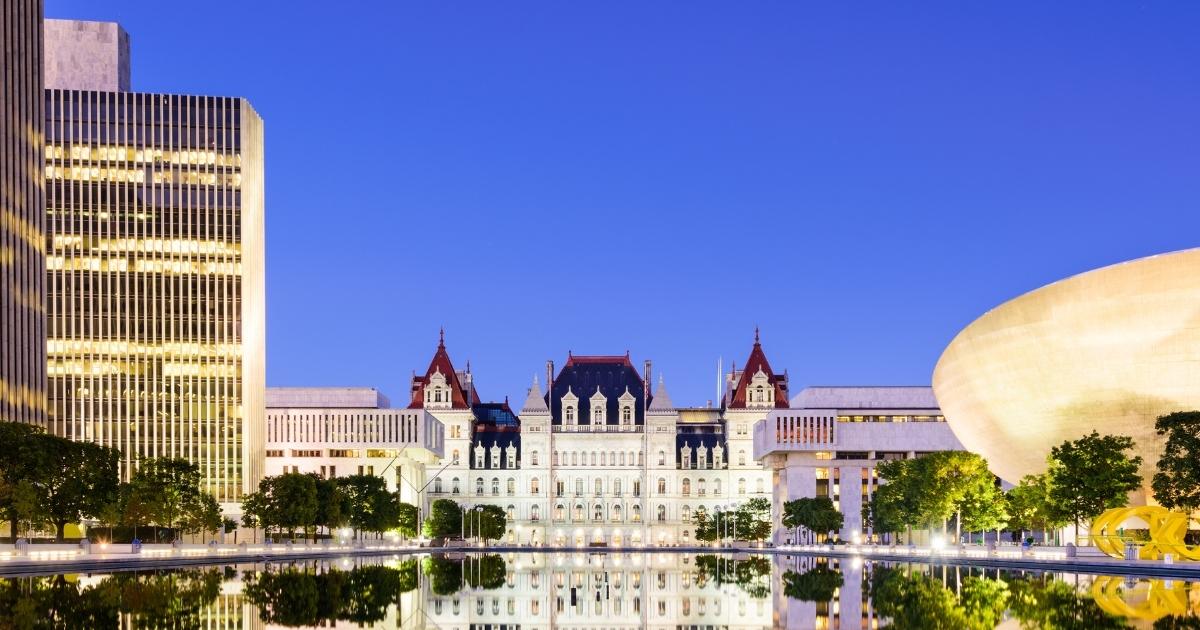 This blog was co-authored by Alex DeGolia, Director, U.S. Climate.
As Governor Hochul and her administration advance a major cap-and-invest program, a new EDF analysis on state emissions reveals how New York's progress stacks up against its climate goals.
New York has done more to move from pledges to policy than most states, but our analysis finds that the state is still projected to face an "emissions gap" in 2030 — the gap between where emissions are headed under existing policy and where New York needs to be to reach its targets. While New York is not alone in facing an emissions gap, the state stands out for the concerted actions New York policymakers are taking to close this gap.
After finalizing New York's climate plan late last year, Governor Hochul, state agency officials — led by the Department of Environmental Conservation (DEC) and NYS Energy Research and Development Authority (NYSERDA) — and New York legislators are diving in and actively working to implement the plan's recommendations. Notable among these is the development of a cap-and-invest program — a policy that can serve as a critical emissions backstop, offering maximum certainty that New York will reach its climate targets. Just as importantly, the Administration has expressed its commitment to put equity, job creation, and affordability at the center of the program — and it must deliver on this commitment as the program advances.
This is exactly the type of action that other states serious about reaching their climate goals should be taking.
Here's what to know about the analysis and New York's climate policy leadership.
What does the emissions gap analysis show?
To understand progress made by New York and other states that have made greenhouse gas (GHG) emissions reduction commitments ("leadership states") as part of the U.S. Climate Alliance or through state policies, EDF conducted an analysis based on data from Rhodium Group comparing business-as-usual (BAU) emissions projections to state's commitments. These estimates are used to evaluate the emissions "gap" — the delta between state commitments and projected emissions — through 2030. Critically, these estimates include projected emission reductions associated with all state policies in place as of June 2022 and include GHG abatement expected from both the federal Infrastructure Investment and Jobs Act (IIJA) and the Inflation Reduction Act (IRA).
New York, like other leadership states, has a gap to close to limit emissions by 2030 in line with its climate law — the Climate Leadership and Community Protection Act (CLCPA) — and the U.S. Nationally Determined Contribution. According to our analysis, New York is projected to reduce emissions between 28% to 35% by 2030 from 1990 levels, compared to the CLCPA target of a 40% reduction by 2030.*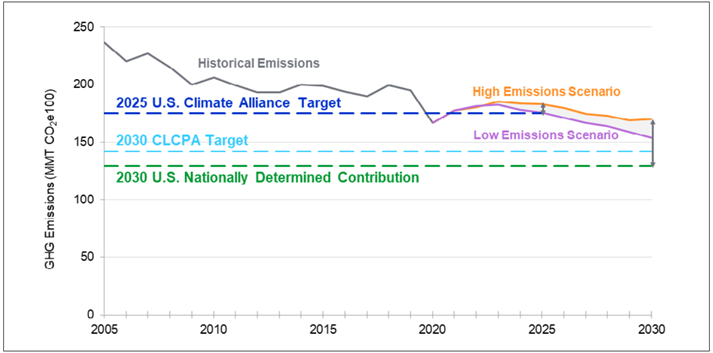 New York and other leadership states have made important progress but have work yet to do. What's more, if these states collectively achieve their emission reduction targets, they could close the national gap to reaching the U.S. NDC by nearly half in 2030, bringing the U.S. significantly closer to its Paris Agreement commitment.
While it is no small challenge to be a state leading the clean energy transition, and we need all states and jurisdictions on board, action in these leadership states is critical and impactful in the global race to address climate change. With the passage of the IRA and IIJA, the opportunity for states to meet their commitments at lower cost while delivering benefits to local communities has never been greater.
Through past policy leadership and further action now underway, New York is setting itself apart as a state taking the necessary strides to cut emissions and realize this opportunity.
How is New York working to close its emissions gap?
Through the CLCPA and other policies, NY has been a leader in climate ambition paired with actions to address local air pollution in overburdened and underserved communities and ensure the clean energy transition delivers environmental and economic benefits to those communities.
On the path to implementing the CLCPA, the state completed a rigorous, multi-year stakeholder and public input process to develop its climate plan, known as the Scoping Plan, finalized at the end of 2022. Included among the Scoping Plan's recommendations is the creation of an economy-wide cap-and-invest program. Such a program would go a long way to closing New York's emissions gap by enforcing strict limits on GHG emissions across New York's economy and serving as a backstop to ensure emissions decline in line with those limits.
How it works: DEC would set an overall cap on emissions that declines each year on track to the CLCPA targets. Major polluters would then pay for allowances equal to their total GHG emissions in that year. Once all allowances have been purchased, no more would be issued for that year, ensuring that polluters in the state could not emit more GHGs than the quantity set by the state. Revenue raised from the sale of allowances would in turn be invested in the clean energy transition — with at least 35%, with a goal of 40%, of the benefits directed to disadvantaged communities (DACs), as required by the CLCPA. A portion of revenue would also be returned to New Yorkers, particularly those most burdened by energy costs, to keep the transition affordable.
This type of policy, paired with sector-specific policies and strategies like NY's Clean Energy Standard and recently passed building electrification requirements, can drive deep emissions reductions and maximize certainty that NY is able to achieve its climate commitments. As New York embarks on the process to develop this program, the state has an opportunity to raise the bar for its climate ambition and ensure benefits for disadvantaged communities are built into the program from the outset.
A successful and carefully-designed cap-and-invest program could deliver the following benefits:
Maximize climate ambition: A well-designed cap-and-invest program establishes a stringent emissions cap that serves as a backstop to reaching NY's emissions targets, declining at least on a linear trajectory to those targets. The cap should cover as many major polluters and sectors as feasible and require swift, persistent emissions reductions. In addition to keeping NY on track to its point-in-time 2030 and 2050 targets, this approach would also cut cumulative pollution with year-over-year limits, essential to preventing the most damaging long-term climate impacts. With a regular, comprehensive, and transparent review process, the program could be adjusted as necessary over-time to ensure it is working as intended to keep New York on track to meet its emissions limits and deliver benefits to disadvantaged communities.
Deliver equitable benefits to communities: In addition to direct and substantial investments of revenue, the program can and must be designed with targeted measures to ensure climate and air pollution reductions are prioritized in disadvantaged communities. One mechanism that could support this is limiting or capping pollution for specific facilities that contribute to cumulative pollution burdens in those communities.
Facilitate least-cost emissions reductions and support affordability: By providing a consistent price signal for reducing GHG emissions, the program would ensure that no cost-effective reduction opportunity is missed, helping to reduce the overall cost of achieving the CLCPA targets. If designed to allow for linking with other existing carbon markets, each jurisdiction's access to low-cost emission reduction opportunities would support greater pollution reduction on a faster timeline. Delivering these lower-cost emissions reductions helps ensure the most affordable path toward achieving CLCPA targets. The program would also support affordability by returning revenue to consumers and using revenue to help households and businesses switch to cleaner technologies.
Accelerate development of clean industries and jobs: By putting a price on climate pollution, the program would incentivize and unlock significant private investment in clean technologies and job-creating industries in NY, accelerating a transition that is already well underway in the state. For industries where decarbonization poses a greater challenge in the near-term — those that are energy-intensive and trade-exposed — New York can adopt proven models that encourage maximum emission reductions while ensuring New York businesses remain competitive.
No doubt, there is much work to be done to develop an effective and equitable cap-and-invest program in New York, and to implement and strengthen sector-specific policies to cut climate pollution and protect communities at the pace required. Together with major new climate federal investments in place, New York has a golden opportunity to lower health-harming pollution, unleash clean energy jobs and drive our national progress forward.
With a consistent track record of climate action and efforts now underway to advance a cap-and-invest program, it is clear that Governor Hochul and NY leaders are up to the challenge and meeting opportunity with action. New York is taking the necessary steps to close its emissions gap and is well-positioned to strengthen its role as a national and global climate leader capable of achieving a safer and more just future.
—
Read EDF's recommendations to NYS agencies on the design of the cap-and-invest program here.
Read the full state emissions gap analysis here.
Learn more about New York's cap-and-invest program here.
* = EDF's analysis is based on Rhodium Group's U.S. Climate Service, which reports emissions in carbon dioxide equivalent based on the IPCC 4th Assessment Report (AR4) 100-year global warming potential (GWP) values and accounting consistent with the EPA GHG Inventory. The 28% to 35% reduction range reflects Rhodium's "low" and "high" emissions scenarios, based on a variety of factors such as macroeconomic conditions, clean energy technology prices, and natural gas prices. Under the CLCPA requirements, NY's accounting framework uses GWP 20-year values and includes emissions from imported electricity and fossil fuels. While GHG emissions totals and the size of the emissions gap would vary using CLCPA-consistent accounting, the conclusion holds that New York has a gap to its emissions target requiring additional policy.