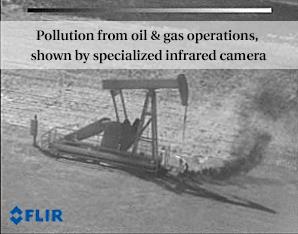 There's not much in Washington these days that Americans can agree on. But a new poll released last week by the American Lung Association found that a large majority of voters would support EPA regulations requiring the oil and natural gas industry to cut methane pollution in half by 2020.
This comes as EPA nears a decision – likely in the coming weeks — on whether to tackle the growing problem of unregulated methane pollution from the oil and gas sector. It's a big decision. Reducing methane pollution from the oil and gas sector by half would save close to $1 billion a year in wasted energy and, over a 20-year time frame, cut climate pollution equivalent to closing about 90 coal-fired power plants.
The new poll of 1,000 voters, conducted by a bipartisan team of pollsters, also shows that public support for the Environmental Protection Agency and for strong clean air laws are as high as ever. GOP leaders should take note as they take over in Congress: voters believe, by a 3-to-1 margin, that the EPA, not Congress, should be setting pollution standards. That includes a 2-to-1 margin among Republican voters. So while the polluter lobby clamors for more political interference from Congress, the public wants the non-partisan EPA to be left alone to do what it is supposed to do.
The reasons that Americans support these policies are not new. Read More »