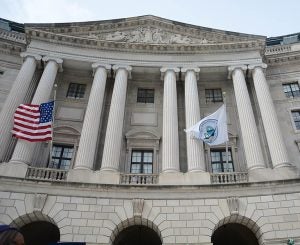 The public comment period for the Environmental Protection Agency's proposed oil and gas methane rules generated more than 400,000 individual submissions, including many from energy and financial companies that support Biden administration efforts to reduce emissions of this powerful greenhouse gas.
However, our analysis of comments from energy and investment companies shows a troubling divide between those that support strong rules and others trying actively to weaken them before they even take effect. When EPA's next comment period opens this spring, it will be critical for supporters to weigh in on the overall goal, as well as on specific provisions — including elimination of routine flaring, transitioning away from polluting pneumatic equipment, and ensuring comprehensive leak detection, including at smaller wells.
A broad collection of investors representing trillions of dollars in capital has urged oil and gas companies to demonstrate genuine effort to reduce their emissions. Yet despite increasing numbers of targets from industry in recent years, U.S. methane emissions remain sky high — suggesting voluntary efforts will not be enough to meet this challenge.
If responsible operators already taking action do not take advantage of this unique policy opportunity, the worst actors will continue to bring down the reputation of the industry as a whole for years to come.
A critical, cost-effective backstop on near-term climate risk
An ever-growing body of research tells us that methane is not only one of the most powerful climate pollutants, but also that its potency makes cutting methane the simplest way to reduce warming quickly. Research also shows that the oil and gas industry, which is responsible for 25% of global human-made methane emissions, offers the most straightforward and affordable reduction opportunities.
Round one of EPA methane comment period draws record engagement; Here's how companies and investors can step up in round two
Click To Tweet
EPA's proposed rules are conservatively estimated to cost around $0.10 per barrel of oil equivalent, less than 1% of current oil prices — far less than the range of daily price fluctuations (for further cost-analysis and detail on EPA's proposed rules, please see our Investor Guide).
It is also clear that methane risk is a financial risk. For the growing number of net-zero-committed investors and lenders, methane policy offers an immediate opportunity to mitigate climate risk in their portfolio while creating space for more challenging decarbonization issues further down the path to net-zero.
Responsible investors need private sector peers to join them
The initial EPA comment period was an important opportunity for company engagement, but the results were mixed.
Record number of investors speak up. From major global investors including Legal & General, PIMCO, Allianz and Wellington to U.S.-based oil and gas private equity firms such as Quantum and EIG, a record $9 trillion in assets under management came out in support of ambitious federal methane policy. That's great news. But these firms are still a fraction of the $130 trillion in capital publicly committed to net-zero. The largest U.S. money managers including Blackrock, Vanguard, State Street, Fidelity and JP Morgan, failed to submit comments.
Despite surface support, comments from trade associations undermine climate action. Trade groups have stated public support for methane regulation, but their EPA comments advocate for significant weakening of the rule. The American Petroleum Institute and American Exploration and Production Council advocated for weakening key provisions in the rule, while questioning the legal basis for EPA to finalize strong regulations.
New independent producers stepped forward. Oxy and Devon submitted clear statements of support for federal regulation, specifically touching on regular monitoring of smaller wells (Oxy) and phasing out emitting pneumatics (Devon), setting them both ahead of their peers. Oxy and Devon's comments could be stronger — particularly on flaring — but these two items are worthy of recognition; other independents should follow their lead.
Big names can further raise ambition. BP and Shell — longtime industry leaders in their advocacy for federal methane policy — submitted broadly supportive comments, backing agency efforts at a high level as well as a general transition to zero-emitting pneumatics. Exxon did not weigh in on key provisions in the rules but has been supportive of EPA regulation in the past, notably through their participation in the EPA Methane Detection Technology Workshop last year. However, material scope remains for all three companies to support greater action on key issues, including routine flaring and regular monitoring of smaller wells.
Many opportunities remain for strengthened comments. Chevron and Pioneer were silent on key provisions and echoed the trade association comments aimed at weakening the rules. Vaquero, Kinder Morgan and Williams did not individually voice clear support for the rules in their submissions, while companies including ConocoPhillips, EOG, Diamondback, Marathon and Hess did not submit comments.
One more chance to weigh in
Public engagement isn't over. EPA plans to introduce new provisions in the next few months, which will provide an additional opportunity for companies to submit comments.
That means there's no more time for double talk. Ahead of this next comment period, investors should ask companies that have expressed support for methane regulation to step up and submit detailed comments that help EPA effectively address this challenge.
This process could lead to one of the most consequential pieces of the Biden administration's climate policy. The EPA rules are an historic opportunity to address one of the most solvable threats to the climate and the energy industry. Everyone in the energy industry should support it — and every supporter should be on record.