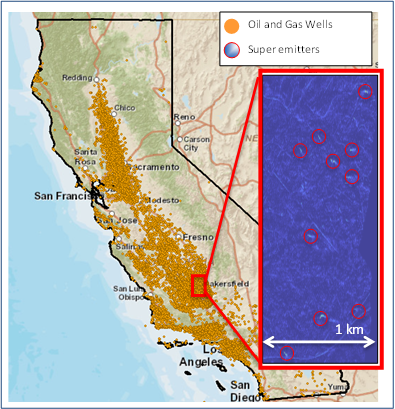 Last week the California Air Resources Board (CARB) and California Energy Commission (CEC) released interim results from a NASA study that offers the most clear-eyed assessment yet of California's largest individual sources of methane pollution.
Methane – a potent greenhouse gas responsible for about a quarter of global warming – is emitted from several different sources, including refineries, landfills, dairy farms, and oil and gas facilities. This new study identifies 329 of the largest pollution sources and offers insights to policy makers about opportunities for reducing these emissions.
Here are four key takeaways from the latest research.
California must focus on super emitters to cut pollution
Previous studies in other regions have shown that when it comes to methane, a small set of high-emitting sites, known as "super emitters" tend to be responsible for a significant amount of total emissions. The new CARB study suggests the same is likely occurring in California (measurements of actual amounts of the methane will be released in the second phase of the project next year).  Many times these super emitters occur randomly, such as when a major piece of equipment breaks and releases a large amount of pollution. Other times, as this study shows, these sites can be landfills, dairy farms, and refineries that simply release a lot of pollution.  Read More »