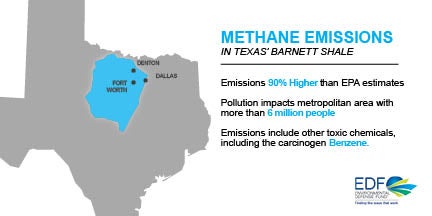 A new scientific study published today in the Proceedings of the National Academy of Sciences, coordinated by EDF, reports findings from the most comprehensive examination of regional methane emissions completed to date. Focused on Texas' Barnett Shale – one of the nation's major oil-and-gas-producing regions – the study uses a new, more accurate way to determine the total amount of methane escaping into the atmosphere from the region's oil and gas production, processing and transportation.
The result is that methane emissions in the Barnett Shale are 90 percent higher than EPA's inventory data would suggest.
This is just one of several recent studies showing a pattern of underestimating methane emissions in locations across the country. One big reason is that conventional inventories typically fail to accurately account for very large, unpredictable emissions from leaks, malfunctions or other problems. In the Barnett study, these were the source of a large share of total emissions.
Why Methane Matters
The higher emissions rate and the agreement among measurement methods represent an important step forward in our understanding of what it will take to mitigate those emissions. Methane is the main ingredient in natural gas, and a highly potent greenhouse gas, with over 80 times the 20-year warming power of carbon dioxide.
When methane leaks, the climate impact of using natural gas increases. In the case of Barnett Shale gas, based on emissions identified in the study, the climate impact is 50 percent higher over 20 years as compared to the use of natural gas in the absence of any emissions. Read More »