Richard Denison, Ph.D., is a Lead Senior Scientist.
Part 2 of a 2-part series (see Part 1 here)
Last week's announcement by EPA about improvements it is making to EPA's reviews of new chemicals under the Toxic Substances Control Act (TSCA) indicated it will begin by reversing two of the most damaging policy changes the Trump EPA made to the program:
Under the Trump EPA policies being reversed, at least 425 new chemicals were granted unfettered market access despite potential risks or insufficient information.
EPA will cease avoiding issuance of the binding orders TSCA requires to address potential risk or insufficient information:
"EPA will stop issuing determinations of 'not likely to present an unreasonable risk' based on the existence of proposed SNURs [Significant New Use Rules]. Rather than excluding reasonably foreseen conditions of use from EPA's review of a new substance by means of a SNUR, Congress anticipated that EPA would review all conditions of use when making determinations on new chemicals and, where appropriate, issue orders to address potential risks. Going forward, when EPA's review leads to a conclusion that one or more uses may present an unreasonable risk, or when EPA lacks the information needed to make a safety finding, the agency will issue an order to address those potential risks."
EPA will cease assuming workers are adequately protected from chemical exposures absent binding requirements on employers:
"EPA now intends to ensure necessary protections for workers identified in its review of new chemicals through regulatory means. Where EPA identifies a potential unreasonable risk to workers that could be addressed with appropriate personal protective equipment (PPE) and hazard communication, EPA will no longer assume that workers are adequately protected under OSHA's worker protection standards and updated Safety Data Sheets (SDS). Instead, EPA will identify the absence of worker safeguards as "reasonably foreseen" conditions of use, and mandate necessary protections through a TSCA section 5(e) order, as appropriate."
If you want the details on what was wrong with these policies – legally, scientifically, and health-wise – see EDF's comments submitted to the agency last year and a summary of them here.
It's no accident that these two policies were prioritized for reversal.  As I discuss below, each had massive adverse impact on the rigor and outcome of EPA's reviews of new chemicals.  The result was that the Trump EPA allowed many hundreds of new chemicals to enter commerce under no or insufficient conditions.  It did this by:  1) illegally restricting its review to only the intended uses of a new chemical selected by its maker, hence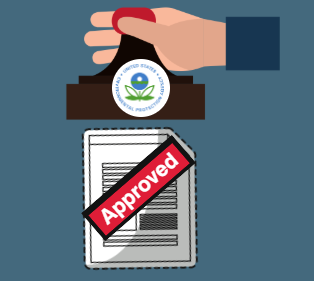 failing to follow TSCA's mandate to identify and assess reasonably foreseen uses of the chemicals; and 2) dismissing significant risks to workers that its own reviews identified, despite TSCA's heightened mandate to protect workers.  Read More »