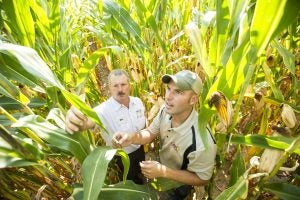 This year's Gulf of Mexico dead zone is the largest ever recorded, affecting 8,776 square miles – similar in size to the state of New Jersey.
Agriculture – from fertilizers and livestock production – is a major source of the nutrients that cause these harmful algal blooms in our lakes and coastal areas. Fertilizers are required to grow food, but we know that making farming practices more efficient and creating natural buffers and filters around farms can reduce runoff.
Farming is already risky business, with unpredictable weather, tough global competition and fluctuating commodity prices.
Implementing conservation practices at scale without hurting growers' productivity requires understanding the challenges of different sectors and bringing together their expertise and investment. It's a collaborative effort, and we must recognize that we are all working around a common goal: a more sustainable food system.
This month, Environmental Defense Fund is launching a series of public events – in Bozeman, St. Louis, and Des Moines – to highlight, advance, and celebrate collaborations among private landowners, food and agriculture companies, policy makers, and the public.