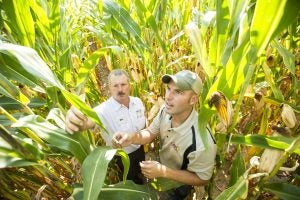 This year's Gulf of Mexico dead zone is the largest ever recorded, affecting 8,776 square miles – similar in size to the state of New Jersey.
Agriculture – from fertilizers and livestock production – is a major source of the nutrients that cause these harmful algal blooms in our lakes and coastal areas. Fertilizers are required to grow food, but we know that making farming practices more efficient and creating natural buffers and filters around farms can reduce runoff.
Farming is already risky business, with unpredictable weather, tough global competition and fluctuating commodity prices.
Implementing conservation practices at scale without hurting growers' productivity requires understanding the challenges of different sectors and bringing together their expertise and investment. It's a collaborative effort, and we must recognize that we are all working around a common goal: a more sustainable food system.
This month, Environmental Defense Fund is launching a series of public events – in Bozeman, St. Louis, and Des Moines – to highlight, advance, and celebrate collaborations among private landowners, food and agriculture companies, policy makers, and the public.
[Tweet "Why we need a new era of collaborative conservation, via @GrowingReturns:https://edf.org/8Xg"]
Conservation cannot wait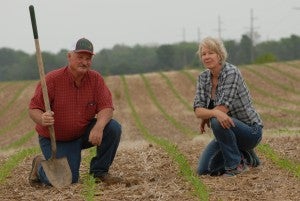 Our mission at EDF is to conserve the natural resources upon which all life depends. This includes people – from farmers and rural communities to consumers. We are guided by science and are committed to designing market-based solutions. In the sustainable agriculture arena, we work to grow the incentives for generating environmental benefits alongside economic ones.
Farms occupy 40 percent of land in the United States. With a growing global population and changing climate, the demands on those natural resources are only becoming more stressed. We need to engage stakeholders from across the ag supply chain and support innovation across U.S. farmland. We need public and private collaboration.
That's why we work with organizations such as the National Corn Growers Association and the Soil Health Partnership, Land O'Lakes SUSTAIN, Walmart, the Agricultural Retailers Association, Smithfield Foods, and Field to Market.
Sustainable ag is good for business
Consumer desires to know more about how their ingredients are produced drive changes across the food industry. The demand for transparency drives conservation, but can also make good business sense. Ensuring the sustainability of the natural resources that support production can help a food company avoid supply chain disruptions from events such as floods or droughts.
Investing in conservation can also bring financial returns. Companies like Smithfield see the benefit to their bottom line. Smithfield also created in-house sustainability programs that can be replicated across the animal agriculture sector.
For ag retailers and crop consultants, meeting the rapidly growing demand for conservation services and programming can help them gain a business advantage. Sustainability offers them a way to expand service offerings and strengthen relationships with customers.
Because they are trusted by farmers, retailers hold vast potential for bringing sustainable agriculture practices to scale. Just one retailer can reach thousands of acres and help reduce algal blooms, such as the one in the Gulf of Mexico.
Farm policy can support innovation
While national politics have become polarized, we see an opportunity to grow the middle ground between rural communities and natural resources preservation.
For more than 15 years, EDF's collaboration with farmers has demonstrated that innovative practices can increase the resilience of farms, protect farmers' way of life, and reduce agriculture's environmental footprint.
Federal policies, including the Farm Bill, need to keep pace with and invest in innovations by farmers and the private sector. Crop insurance is a good example. Farmers can only receive the full benefit of this program if they follow prescribed good farming practices. Yet farmers who use some USDA Natural Resources Conservation Service practices can be penalized under current crop insurance standards.
Policymakers – along with food companies, farmers, agribusinesses, and aquatic life – all benefit from advancing the sustainability of our working lands.
Related:

There's good reason to end the agriculture versus the environment fight >>>
A coalition of uncommon bedfellows is bringing sustainable agriculture to scale >>>