Every year right before Commodity Classic, EDF brings together a group of farmers who share their lessons learned in sustainable agriculture – and offer insights on bringing conservation practices to scale. These producers are our advisors, sounding boards and partners. They help us understand what agricultural policies really look like when implemented on the farm, and how best to convey to farmers that not all environmentalists point fingers at ag.
This year we had a new addition to the group, someone who brought an important perspective because he's far younger than the average-aged farmer. Scott Henry is a 27-year-old partner and business development manager for LongView Farms, a row crop grain operation in central Iowa that specializes in seed production. Scott is responsible for business growth, strategy, production operations and the implementation of precision agriculture technology across the farm.
I asked Scott about his start in farming, about the importance of financial expertise in agriculture and whether sustainability really is good for growers' bottom lines.
How did you first become interested in farming?
I grew up on a family farm, so I've had some kind of involvement in agriculture since I was 14 years old. But my interest wasn't in driving tractors and combines – I really wanted to understand the business side of running a farm. That's why I pursued a degree in ag business and finance, and spent a few years after college working for a large diversified farm operation. A few years later, I decided to come back to the family farm.
What kind of education did you pursue to become an ag and business expert?
As an undergrad at Iowa State University, I wanted to take practical business and finance courses. This was important to me because most ag programs are focused only on direct ag management economics and not broader farm business finance. I chose to pursue a finance major along with an ag major because in thinking about coming back to the farm after college, I realized I needed both ag economics knowledge and general business management skills – along with a bigger professional network.
That's when I decided to pursue a Master's in Agricultural Economics from Purdue University and an MBA from the Kelley School of Business at Indiana University.
[Tweet "Meet sustainable agriculture's new whiz kid: Scott Henry of @LongViewFarms, via @FriedmanSuzy.https://edf.org/7ag"]
What's the value for other farmers in sharpening their finance and business skills?
Having a solid understanding of accounting and business management is more important than ever as margins continue to tighten up. There are countless weeklong courses in the off-season that can be a great "crash course" type of option. One great resource is The Executive Program for Agricultural Producers (TEPAP), administered by Texas A&M AgriLife Extension.
But if courses aren't an option and you don't have a strong support network, I'd encourage my fellow farmers to use some sort of financial advisory service.
Why did you decide to connect with EDF's ag advisory group?
"On a personal level, my family farm has 'long view' in our name for a reason – one of our key values is land stewardship."
I first heard of EDF from
AGree advisor
and personal friend
Kristin Weeks Duncanson
, who encouraged me to work with a business-minded organization and advocate for sound sustainable practices in the ag industry.
It's no secret that farmers don't like regulations, but as consumers' demands change, we need to work with policymakers, not against them – and to focus on facts and science.
On a personal level, my family farm has "long view" in our name for a reason – one of our key values is land stewardship. We're focused on supplying an income for our family over the long-term, and this means we have to implement practices today that maintain our land for tomorrow.
What kinds of conservation practices do you use on your farm?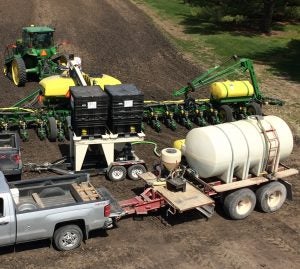 Our biggest focus is on nutrient management – we are big believers in the 4Rs of nutrient stewardship. We're trying to reduce the total number of nitrogen units that we apply, but more importantly we want to avoid losing fertilizer to the environment.
We also participate in the Land O'Lakes SUSTAIN® platform – thanks to SUSTAIN's training, our local co-op has really pushed land stewardship practices here in Iowa. We participate in the Unilever/ADM Sustainable Soy Continuous Improvement Program as well.
It's also important to note that stewardship is more than tillage and production practices – collecting data and being able to track and understand the growing process is a big part of it, too. We have spent a lot of time and energy investing in the technologies and software to help us understand each and every practice and to know all of the details about how our grain was grown.
I always say that sustainability makes good business sense, but you're the real expert on this – so is it true?
It's easy to say yes and more contrarian to say no – but the way I think of it is that the returns will be judged many years from now – so how do we justify that investment today?
I think the competitive advantage into the future is for producers who are willing to accept and embrace change and try new things. That may seem odd to traditionalists in our industry, but that is where you will have your chance to get ahead.
Related:
Farmers' voices are essential to figuring out sustainability. Let's listen up. >>
This Iowa farmer proves that profit and sustainability go hand in hand >>