Almost daily, I see new stories on how agribusinesses, entrepreneurs, and traditional technology companies are making big investments in precision agriculture tools and digital platforms that collect data from farms.
These data include information such as fertilizer rate, prescription accuracy, yield by square foot, seed type, and soil type. When analyzed at a large scale, the data can determine best practices for farm operations to maximize yield and minimize input costs.
This is an exciting trend, with big and small companies alike getting into the data game, and the tools used to collect this data becoming ubiquitous. And although these technologies weren't necessarily started with sustainability in mind, they have tremendous potential to benefit the environment.
Unprecedented momentum
A recent report by AgFunder found that in the first half of 2015, venture capitalists invested $2.06 billion in ag tech.  This compares to the record-setting $2.36 billion spent in all of 2014.
One of these new ventures is Farmers Business Network, which aggregates farm data from individual farmers and shares those data, anonymously, with other farmers in the network to let growers share insights. And start-ups like Grower Information Services Cooperative and Granular Inc. help farmers collect and store data, and then market it to agriculture companies, equipment manufacturers, or even futures traders.
The best known brands in agriculture are on board with data collection, too. In September, Monsanto, which owns the data analytics company Climate Corporation, announced plans to become a data science and services-focused company. Trimble Ag recently released new software that lets farmers extract high-quality information from satellite imagery. This summer, DuPont Pioneer launched a service to improve fertilizer efficiency. And Bayer CropScience is piloting a new program for pesticide efficiency.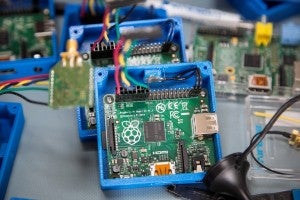 Data explosion
While "big data" has been embraced by Silicon Valley for years to gather insight on consumer behavior or analyze health care costs, its use in agriculture is relatively new. That's because the widespread adoption of precision agriculture technologies has only recently facilitated the ability to collect massive amounts of data.
According to USDA's Agricultural Resource Management Survey in 1997, only 17 percent of corn acres used precision agriculture equipment. By 2010, that figure was above 70 percent.
Some companies estimate they can collect seven gigabytes of data for every acre. Just looking at the approximate 93 million acres of corn, that totals 651 petabytes. That's equal to more than 145 million DVDs worth of data every year!
What it means for farmers and the planet
The data revolution has huge potential benefits for farmers: increased efficiency, reduced input costs, and higher yields. Plus, farmers can meet suppliers' increasing demands for transparency about how their crops were grown, since they have the data to show these companies. Data collection can also help farmers participate in emerging carbon markets for agriculture, which will allow farmers to get paid for reducing greenhouse emissions.
There are also big environmental benefits.  Using pesticide and fertilizer more efficiently improves air and water quality, and can benefit soil health, too. And the collection and analysis of these data has huge potential to reduce pollution from agriculture, at scale.
The ag tech revolution can be a win-win-win for farmers, businesses, and the planet.  But we need to take a deep breath.  Precision ag and big data aren't silver bullets. We still have several hurdles to overcome. My next blog will examine those challenges – and how to move past the hurdles.