Soil health wasn't always this sexy. The United Nations has named 2015 the International Year of the Soils, the National Corn Growers Association created the Soil Health Partnership, and the Telegraph newspaper is claiming that we can only ignore the soil crisis for so long, and that "just a handspan of topsoil lies between us and oblivion."
But Kansas farmer Gail Fuller has been at the forefront of soil health measures since the early 1980s. Just last month, he hosted the fourth annual "Fuller Field School," a soil health workshop that was attended by growers from across the globe.
I asked Gail, who operates a diversified 1,000 acre farm in Emporia, Kansas, to tell me why soil health is so important for our food system, and why other growers should get on board.
What's your history with conservation?
As a farm kid, I was inspired by the environmental movement, politics aside. I've always known that we can do better to protect farmland.
I first experimented with no-till in the early 1980s. Unfortunately, that failed miserably and erosion continued, but that's because I was young and too stubborn to ask for help! So I went back to conventional till methods. But in 1993, a flood washed inches of soil from one of my fields. After seeing so much of my farm wash away from erosion, I changed to no-till and haven' t looked back since.
I learned about cover crops in the 1990s, but it was only after a few years of severe drought in the early 2000s that I decided to take a risk and start cover cropping on a wide scale. I can say with no reservations that they've lessened erosion, enriched the soil with carbon, and even increased profits. Today we use up to 60 species of cover crops to enhance soil health.
How has the soil health landscape changed since your experiment in the early 80s?
When I first tried no-till, I did so because my agronomist recommended it. There were no-till planters being developed, and a neighbor of mine had tried it, but not many other resources were available.
It's much easier for growers today to get started with no-till and soil health measures. You can find YouTube videos, research papers, and online forums to learn about no-till and cover crops. Plus, there are great conferences like No Till on the Plains and the National No Till Conference.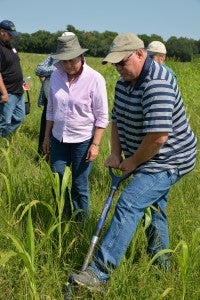 What is the Fuller Field School all about?
My colleague Jill Clapperton and I recognized the need for education about the benefits of soil health measures, and about holistic farm management. So we created the Fuller Field School, which isn't just your free-donut workshop.  And it's not a "soil 101" class. We get out into the field and work one-on-one with growers to talk about soil health.
We just hosted our fourth Field School in August, with about 130 participants. Growers came from far and wide, including Oregon, Vermont, Texas, Hawaii, Canada, Australia, and Sweden.
Why aren't all growers implementing soil health measures?
The number one reason growers aren't converting is policy barriers. Outdated policies actually give disincentives for adopting practices such as cover crops. The biggest impact will come from implementing policies that support soil health and fertilizer efficiency practices.
Other reasons are resistance to trying something new, up-front costs, and concerns over dragging down yields. But once growers plant cover crops, I'm seeing 90 percent of them plant cover crops again the following year – on every acre of their field. And no-till gets a bad reputation for reducing yields, but that's simply not true anymore. When farmers are focused on keeping their business up and running, their focus is often, understandably, all above ground. But if growers devote more attention to the soil, huge returns will follow.
Where do consumers fit into the soil health arena?
You are what you eat, and everything on your plate is there thanks to the soil! I hope consumers hear about the International Year of Soils and recognize the thought and effort that growers are putting into soil management to produce the good food that they enjoy.