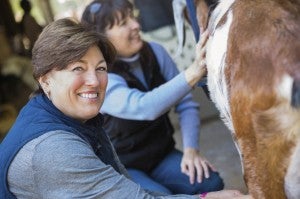 The U.S. Department of Agriculture just published an important roadmap for America's farmers and ranchers to measure their greenhouse gas emissions and evaluate opportunities for reducing them.
Previously, insufficient data and lack of scientific consensus have impeded natural resource stewards from calculating GHG fluxes from management practices – especially since biological systems are dynamic and complex. But the new Greenhouse Gas Report provides thorough guidelines for understanding how different management practices influence GHG emissions on farms, ranches and forests.
This is a major breakthrough in mitigating the impacts of climate change on working lands. By helping landowners better understand their impacts, farmers, ranchers and forest owners will be better equipped to calculate their emissions and account for these impacts through voluntary participation in GHG mitigation or carbon sequestration projects across the country.
Accounting tools for agricultural sustainability
The roadmap itself may be overwhelming at more than 600 pages, but its detail provides specific guidance for all types of agricultural land managers (wetlands, croplands, grasslands, forestlands, etc.) and creates a much needed standard "for use by USDA, landowners, and other stakeholders to assist them in evaluating the GHG impacts of their management decisions," according to the report.
Never before has there been such a comprehensive document for agriculture.
By outlining all currently available and science-based methodologies, models and quantification tools, the report provides a starting point to establish baselines and comprehend the mitigation potential of agriculture.
Reaping benefits for landowners
The USDA has been simultaneously developing a sophisticated calculation tool – Comet-Farm – that promises to make today's Greenhouse Gas Report truly actionable. Using weather, location, crop and management data, Comet-Farm simulates agricultural situations to provide GHG emissions and potential mitigation scenarios.
Soon, producers will be able to use this data to improve management practices, quantify emissions reductions or carbon sequestration, and create agricultural offsets that can be sold to carbon markets to generate revenue. In the end, these tools will help landowners reap the benefits gained by improving their management practices. It's a win-win scenario for the landowner and the environment.
As experienced natural resource stewards, farmers and ranchers know better than anyone that significant benefits for the environment and the economy can be gained from agricultural mitigation. With new tools and standards, we are now better equipped to face the climate challenges ahead and bring more certainty to an uncertain future.