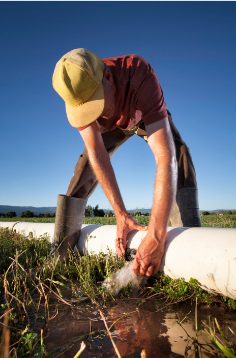 On Colorado River Day, it's worth considering how we can write the next chapter in the water story of the American West.
With the recent news that Lake Mead is at its lowest level in history, it's impossible to ignore the trajectory of America's hardest-working river. In the Colorado River Basin, we are already using more water annually than is being supplied by snowpack and other precipitation. The Bureau of Reclamation and others predict that this gap in water supply and demand will increase to nearly 4 million acre-feet by 2060, with significant shortages possible as early as 2017.
It has become clear that, over time, our water uses are going to have to change. In thinking about where – in what sectors – this change should take place, we must also consider the environmental, cultural and economic services that each sector provides.
"Buy and dry" is no silver bullet
In the discussions about how to deal with the growing gap between water supply and demand, the default solution too often involves permanently taking water out of agricultural irrigation and transferring it to meet the needs of a growing urban population.
Agriculture uses approximately 80 percent of Colorado River water to irrigate nearly 4 million acres, providing 15 percent of America's crop output and 13 percent of our livestock production. It is a significant contributor to rural economies and provides a number of environmental, cultural and ecosystem services benefits.
It's true that all water-using sectors will have to be part of the solution, but the "buy and dry" of farms and ranches around the West has left a litany of problems: remaining irrigators can no longer afford to operate their ditches, farm supply businesses are seeing dramatically reduced revenues, farmworkers are left unemployed, and in some cases, river reaches and wetlands once dependent on return flows are being left to dry.
As water scarcity increases the interest in buying water from farms and ranches, we will need to find ways to address these economic and environmental impacts.
Designing solutions for rivers, people and the economy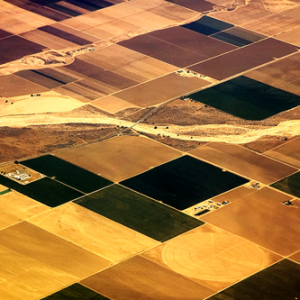 There are a number of ways to improve the health of our working rivers while also making water sharing profitable for agricultural water users.
Continued investment in improving agricultural efficiency and infrastructure is an important first step to improve both agricultural and environmental sustainability.
Water banks and markets that pay irrigators a fair price – taking long-term agricultural productivity, regional economics and environmental impacts into consideration – need to be part of a portfolio of solutions to address the significant issues of water shortages exacerbated by drought and climate change.
A portfolio approach
Even though most of the water in the Colorado River Basin and the West is used in agricultural production, there are significant opportunities to conserve water in other sectors.
Urban water use is one sector where demands are projected to increase significantly.  If the cities that use Colorado River water want to grow, the first place they should look for water is in their existing supply. After all, urban water conservation is a proven strategy:  the Los Angeles region added more than 3 million residents since 1990 without increasing its total water use.
Cities can and must make a significant contribution to the supply-demand gap at lower cost and with fewer impacts to our rural western economies and environmental values.
The Bureau of Reclamation's Colorado River Supply and Demand Basin Study identified 1 million acre-feet of water-savings potential from municipal and industrial conservation programs and an additional 1.15 million acre-feet from municipal and industrial water reuse programs. Cost-effective conservation savings can be achieved through a number of programs and incentives, including improved water rate structures, conversion to high efficiency appliances, improvements in urban irrigation systems, and other public education and incentive programs.
"Together We Conserve"
Recent surveys indicate that people understand the importance of preserving our agricultural economies and generally support increased municipal conservation and reuse by large margins. Urban water leaders haven't ignored this feedback.

Many western cities have been leaders in water conservation for a number of years. Denver Water's "Use Only What You Need" campaign, Southern Nevada Water Authority's "Cash for Grass" program, and the Phoenix regional "Together We Conserve" program are all examples of this leadership, making it clear that cities can do significantly more in a drier future than they've done in the past.
Still, there is some debate about whether cities can adopt conservation measures with appropriate haste. And it is certain that as long as urban water utilities can buy water from agricultural users without having to pay for impacts to rural economies and natural resources, "buy and dry" of farms and ranches may look like the better deal. But healthy rural economies and natural resources are central to the economic bounty of the Colorado River.
Farming, ranching, fishing, recreation and tourism are all fundamental to the productivity and lifestyle of the American West. So as we consider all of our options to address the growing water supply and demand gap in the Colorado River Basin, cities must remain at the leading edge of water conservation and reuse practices so that we can avoid large-scale, permanent reductions in irrigated acreage, stream flows, and the economic impacts these will create.