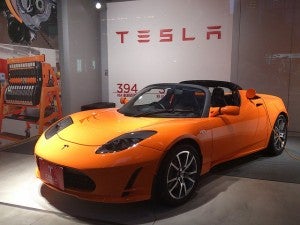 We love electric vehicles (EVs) in California and we want that love to spread. Why? It isn't because of the cool factor – though, believe me, EVs like the Tesla are undoubtedly cool. Instead, it's because these cars can offer significant benefits to the environment, electric grid, and economy.
California policymakers feel the love: in March 2012, Governor Brown signed an Executive Order that put an ambitious – and important – goal in place to provide the infrastructure for up to 1 million zero-emission vehicles (ZEVs), which includes fuel cell powered vehicles along with plug-in hybrid and battery EVs, by 2020 and put 1.5 million ZEVs on the road by 2025.
Here are some of the potential benefits of electric vehicles:
Reduce harmful pollution. Because EVs don't produce any emissions from the tailpipe when they are drawing on energy from their battery – unlike traditional gasoline-powered vehicles – they can greatly reduce the amount of harmful pollution from which California suffers. Targeting tailpipe emissions, the largest contributor to dangerous emissions, will help the state meet its greenhouse gas reduction targets and reduce harmful pollutants that are causing elevated levels of smog.
Integrate more renewable energy. By charging at times when renewable energy is abundant (i.e., during the day to take advantage of solar and late at night to soak up wind power), EVs can enable the grid to handle more clean energy resources while still maintaining reliability.
Avoid increasing use of fossil fuel resources. Because solar power becomes unavailable when the sun goes down, the grid sees a steep increase in the use of fossil fuel-powered energy before sunrise and after sunset. If EVs charge during the day and then draw upon that stored energy when renewable energy is unavailable it will reduce the need for fossil-fueled generators to provide energy during these times of the day.
Avoid costs to utilities and residents. Capitalizing on the ability of EVs to integrate more renewables onto the grid can offset the need for additional, expensive transmission and distribution infrastructure as energy needs increase over time. In addition, EVs present an attractive financial proposition – by reducing or eliminating the amount that drivers spend at the gas pump, those who purchase an EV can recover the upfront cost of the car in a matter of years.