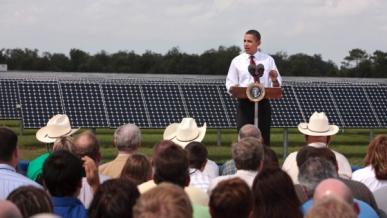 This commentary originally appeared on our EDF Voices blog. 
Today president Obama took an important step toward supporting a clean energy future by directing the Federal Government to consume 20 percent of its electricity from renewable sources by 2020.  This is more than double the current level, making this a significant moment in President Obama's second term.
Renewable energy has become cost-competitive over the years and the quality of innovative clean technologies has dramatically improved.  These are clean, efficient, homegrown resources that we can count on now, and President Obama's public support of renewables in this announcement will serve to further drive their competiveness in the market.
This memorandum also directs agencies to update their building-performance and energy-management practices, "by encouraging the use of the consensus-based, industry-standard Green Button data access system (Green Button) and the Environmental Protection Agency's (EPA) Energy Star Portfolio Manager."  Recommendations under this section ask agencies to install smart energy and water meters, participate in demand response where possible and make the data collected from smart meters publically available in order to better manage energy performance and allow for benchmarking. Read More »