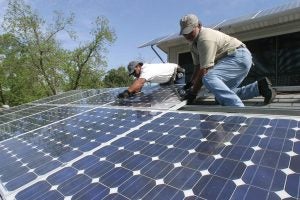 February's energy crisis did something no Texas politician has done in decades: It brought Texans together to demand our leaders in Austin fix the flawed energy system that failed so miserably, caused nearly $300 billion in damage and killed more than 200 Texans.
Unfortunately, fossil fuel interests and their willing allies in the Texas Legislature are pushing bills that would have absolutely zero impact on the problems that caused the crisis and would instead place additional costs on producers and customers of electricity generated by solar and wind. The Houston Chronicle called the bills a "cheap shot at renewable energy" and "shameless political opportunism aimed at helping the oil and gas industry profit off Texans' misery."
At issue are Senate Bill 1278 and House Bill 4466, companion bills that would force onto wind and solar power generators a disproportionate percentage of ERCOT's "ancillary service" costs — costs that are currently divided equally among all electricity generators and then passed on to their customers.