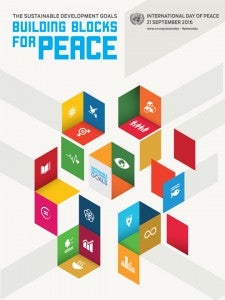 Each year since 1981, the United Nations (UN) recognizes an International Day of Peace on September 21. The day is intended to strengthen peace both within and among nations.
As an environmental advocate, I can't help but think about the effects of climate change on the current state of global peace. And while there are a few climate deniers out there, those who have looked at the science are saying climate change poses a serious threat to global security and peace.
Fortunately, the UN agrees – which is why they chose to focus this year's International Peace Day on Sustainable Development Goals. Unanimously adopted by all 193 UN member states, the Sustainable Development Goals are broken down into 17 focus areas and are part of a broader agenda to fight inequality, injustice, and climate change by 2030.
Goal 7 – "ensure access to affordable, reliable, sustainable, and modern energy for all" – is a hugely important part of fostering global peace. The world needs affordable, reliable electricity to heat, cool, and power our homes, and to encourage economic growth. But we also need this electricity to be clean, modern, and efficient, so it doesn't pollute our communities and exacerbate climate change.
Here are four ways the U.S. is doing our part to achieve an affordable, reliable, sustainable, and modern energy system for all: