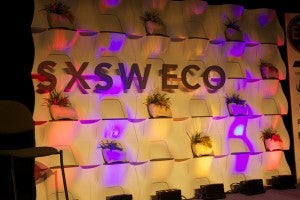 Public voting is open for SXSW Eco 2016 – one of the world's most high-profile environmental conferences. Cast your vote by May 20 to help determine which panels, workshops, solo talks, and bootcamps the conference will feature Oct. 10-12 in Austin, TX.
Whether or not you plan to attend the conference, your opinion matters: SXSW Eco aims to highlight breakthrough ideas and discover new ways of addressing critical environmental challenges, locally and globally. In other words, what matters to you, matters to SXSW Eco.
Environmental Defense Fund (EDF) has submitted three panel proposals this year, featuring our own clean energy experts, as well as industry leaders from across the U.S. and diving into topics we regularly explore on the Energy Exchange: solar power equity and reliability, and the energy-water nexus.
Voting is free, fast, and for a cause you care about. So, no excuses: Vote for your favorite EDF panels and presentations today!
[Tweet "You can Help Shape the Clean Energy Conversation: Vote for SXSW Eco Panels"]
 How to vote
Login or create a PanelPicker account here: http://panelpicker.sxsw.com. To vote for EDF's panels, use the search tool to find the titles below. Give a session a "Thumbs Up" or "Thumbs Down," leave some comments, and move on. The process only takes a minute.
Panels organized by EDF, Clean Energy
Let's Talk About Solar Power & Equity
We need to have "the talk" about solar power and equity, because ignoring uncomfortable questions will invite misinformation and bad decisions. We need an informed dialogue about how local solar power can impact low-income communities and communities of color in the U.S. We need to talk about "all the good things, and the bad things, that may be." Panel speakers:
Keeping the Lights On: Solar & Grid Reliability
Many want to see more distributed solar energy on our electricity grid, but few can answer tough questions about reliability and fully meeting demand with an intermittent resource. One problem: "peak sun" (~11am-3pm) doesn't generally match "peak demand" (~4pm-7pm) in many regions, causing reliability concerns, "dumping" of excess renewable energy, and leading to the use of dirty "peaker" power plants. States are mandated to lower carbon in their energy portfolio, but also need to prepare for impacts of climate change, extreme weather, and unstable fossil fuels. Can a robust package of distrusted solar, advanced storage, and demand management tech save the day? Panel speakers:
Voting is free, fast, and for a cause you care about. So, no excuses: Vote for your favorite EDF panels and presentations today! 
What if Energy Spent a Day in Water's Shoes?
Secretary of State Kerry recently declared clean energy a multitrillion dollar opportunity. Although he noted the potential impacts to global water supply, the role water plays in our energy choices was nowhere to be found. But there's an inextricable connection between energy and water – one requires the other. If clean energy is a greater investment opportunity than hi-tech, as Kerry suggests, smart water planning and technology can help us reach that future faster. But first, we have to break down the silos between the two, viewing energy through a water lens and vice versa. If energy spent a day in water's shoes, it could reveal a whole new world of possibilities. Panel speakers:
Photo source: anna Hawks / Flickr