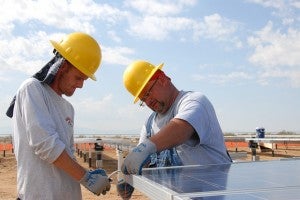 During the next five years, 200,000 service members will transition from active duty military to civilian life. They will need jobs. The solar industry is booming and needs skilled workers. The math is simple.
The recently announced Solar Ready Vets program aims to help transitioning service members pursue training in the solar industry, which is adding 30,000 jobs a year, according to the U.S. Department of Energy (DOE).
Solar Ready Vets will focus on the specific needs of high-growth solar employers and build on the technical skills that veterans acquired during service.  Solar Ready Vets is part of a larger DOE initiative to train 75,000 people for the solar workforce by 2020, some of whom are also veterans.
Initially, Solar Ready Vets will roll out at 10 military bases across the United States. Four bases in Colorado, California, Utah, and Virginia have been identified, and the other six will be selected based on the number of transitioning military personnel and strength of the solar market, among other things. Read More »