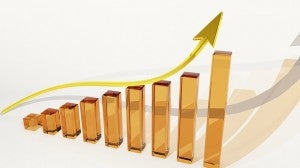 Last year, global investment in clean, renewable sources of energy grew by a better-than-expected 16 percent to $310 billion, according to Bloomberg New Energy Finance (BNEF). Industry watchers applauded the strong showing, but the numbers imply more than just robust growth. A careful analysis leads us to two additional illuminating conclusions about the industry's current level of development and its future.
The clean energy industry is in a development phase
In 2013, China's gross domestic product (GDP) grew 8.5 percent, with investment comprising 47 percent of GDP. By contrast, GDP in the United States expanded 1.9 percent, with investment comprising 16.8 percent. As a developing country, China's growth rate is significantly higher, and a telling characteristic for developing countries is that investment makes up a relatively large percentage of GDP.
This pattern doesn't just hold true for countries; we also see a similar dynamic when looking at industries. According to BNEF, the oil & gas (O&G) industry spent $913 billion on capital expenditures, or capex, last year, while the market capitalization, or market cap, for the top ten companies in the NYSE Arca Oil & Gas Index stood at $1.63 trillion. By contrast, the market cap for the top ten companies in the Wilder Hill New Energy Global Index was much smaller at $164 billion. The Wilder Hill New Energy Global Index comprises 107 companies from around the world that cover a broad spectrum of clean energy technologies. Read More »