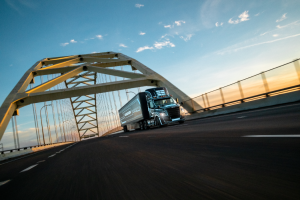 By Larissa Koehler and Alice Henderson
This week, the Environmental Protection Agency is hearing from scientists, mothers, healthcare professionals, public health and environmental advocates – including EDF – and many others who submitted comments in support of California clean truck standards.
As EPA works toward finalizing federal heavy-duty emission standards proposed earlier this year, the agency has been accepting public comment on its notices considering Clean Air Act preemption waivers for California clean truck standards, including the Advanced Clean Trucks and Heavy-Duty Omnibus NOx (low-NOx) standards. Several other states have already adopted these standards in recent years to reduce health-harming pollution from new freight trucks and buses. The ACT requires an increasing percentage of new trucks and buses to be zero-emission through 2035, while the low-NOx standards aim to reduce nitrogen oxides from new diesel trucks.
Taken together, these protections will prevent almost 5,000 premature deaths, save California billions of dollars in health care costs and create thousands of new jobs by 2035. But the Truck & Engine Manufacturers Association — a trade group of the nation's largest engine manufacturers, including Volvo and Daimler — has opposed these safeguards at the state and federal level, and is now challenging in court California's ability to implement the low-NOx emission standards.
The U.S. needs manufacturers to be leaders in the transition to low- and zero-emission vehicles. We need these companies to innovate, create jobs, advance justice and strive to protect human health — not litigate and obstruct. Importantly, some companies like Ford, GM and Cummins have distanced themselves from the lawsuit, but others must step up.
In these proceedings, EPA should approve the preemption waivers so California and other states can implement these protective regulations that help ensure key health and economic benefits are achieved in California and beyond. And EPA must finalize strong national standards that protect all people and communities from harmful diesel pollution consistent with the low-NOx standards and that achieve ACT-levels of zero-emission vehicle deployment.
EPA must protect California's life-saving clean truck rules
Click To Tweet
California's long history of ambitious emissions standards
California's authority to enact protective clean vehicle standards is long established under the Clean Air Act, as is EPA's responsibility to waive federal preemption for California standards that meet the requirements of the act.
In 1967 — recognizing the significant air pollution burden faced by California due to its unique geography, weather and expanding number of people and vehicles, and that the state already had mobile emission standards in place — Congress recognized in the Clean Air Act the need for California to have protective standards in place. Since that time, the EPA has consistently recognized the health and climate imperative in California that necessitates strong, lasting emission standards for new vehicles, granting over 50 preemption waivers in the past 50 years.
This history underscores California's longstanding right to set standards that protect human health and address climate change, while helping to grow jobs in the state.
Health and economic benefits of the ACT, low-NOx rules
Ensuring states can move forward with the ACT and low-NOx rules is critical.
EPA estimates that 72 million people live within 200 meters of a truck freight route — meaning that nearly a quarter of all Americans are at greater risk of cardiovascular disease, asthma emergency room visits and hospitalizations, as well as adverse pregnancy outcomes due to truck pollution. But people of color and those with lower incomes bear this health burden disproportionately. According to the American Lung Association, people of color are more than three and a half times more likely to breathe the most polluted air when compared to white people — with a significant portion coming from transportation.
Transportation is also the largest source of climate pollution in the U.S., leading to more frequent and intense wildfires, droughts and extreme weather events that all Americans are experiencing first-hand. While trucks and buses make up less than 10% of all the vehicles on our roads, they are responsible for almost a quarter of all climate pollution.
By regulating emissions from trucks and buses, it is estimated that the low-NOx and ACT rules will result in statewide health benefits of $36.8 billion and up to $12 billion, respectively — in addition to the ACT creating thousands of new jobs over the lifetime of the rule. And because freight trucks and buses also consume more than 55 billion gallons of fuel annually, transitioning to zero-emission alternatives will save fleets and truckers money — especially in the face of recent diesel price increases and supply uncertainties related to the volatile global energy market.
The ACT and low-NOx rules are technologically feasible and cost effective
Momentum in the transition to zero-emission vehicles is ramping up.
Fleets are increasingly eager to adopt zero-emission vehicles, and multiple zero-emission options exist today for all classes of vehicles. Model availability has increased 625% since 2019, proving that the technology necessary already exists. These vehicles are also becoming more affordable every day. Many electric trucks, school and transit buses will be less expensive on both a first cost and total-cost-of-ownership basis compared to their internal combustion engine counterparts by 2027, according to a recent study by Roush for EDF.
Many states have embarked on processes to leverage state and federal dollars to ensure that infrastructure is in place and range anxiety is a thing of the past. Finally, the technological hurdles necessary to meet the ambitions of the current low-NOx rule are significantly less than for past iterations of this rule. In 2013, the last time California's NOx standards were updated, the market stepped up with increased deployment of cost-effective solutions. Manufacturers can and must do so again.
However, to accelerate the adoption and drive down the costs of zero-emission trucks and buses, market certainty is needed. Ensuring California and other states can continue to move forward with protective standards will provide much needed assurance to the market, while building on innovation and economies of scale.
The time to move forward is now
The EPA has a critical opportunity right now to create a pathway for reducing harmful diesel pollution and ensuring greater deployment of zero-emission trucks and buses through the national emission standards it will finalize this year and moving forward with California's preemption waiver. In so doing, the agency will help protect human health and the environment, save money for truck drivers and fleets and create thousands of well-paying jobs.