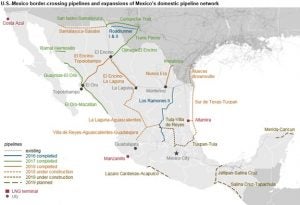 One year ago this week, Mexico took an immense step forward by passing the world's most comprehensive regulations to reduce oil and gas methane emissions. Since then, oil and gas companies and the Mexican government have been collaborating to develop concrete plans to make this happen and to ensure that the country is on track to deliver on its climate goals. In June 2016 Mexico, along with the US and Canada, committed to reducing methane emissions from the oil and gas sector by 40-45% by 2025, a target that is in line with the stated goals of the United Nations' Convention on Climate Change.
But, is this enough? That is a question Mexico's government and its national oil company, Pemex, should be asking today, because the country deserves more.
Mexico has the opportunity to maintain its climate leadership by implementing methane regulations, and transforming the country's energy landscape into an ultramodern system — one worthy of a 21st century economy. This would increase domestic prosperity and social justice for years to come by making the oil and gas sector more efficient and by reducing harmful pollutants.
We are already seeing a strong and steady commitment to make this a reality. Pemex is on track to comply with the regulations, and ASEA, Mexico's National Agency of Industrial Safety and Protection of the Environment of the Hydrocarbons Sector, is collaborating with the Environmental Defense Fund and the wider NGO community to put systems in place that will facilitate compliance for Mexico's oil and gas industry.
Methane regulations can help transform Mexico's energy sector
Click To Tweet
Methane is a significant contributor to global climate change. It makes up nearly 90% of natural gas and causes 25% of the warming we experience today. The global oil and gas industry emits more than 13 million metric tons of this pollution — that's US$2 billion in wasted natural gas resources per year. When Mexican oil and gas facilities leak methane, they waste a valuable domestic energy resource, and contribute to climate change. To avoid these economic and social impacts, it is essential to raise awareness about the scale and impact of methane leaks and to develop and implement effective policies to address them. Methane reduction regulations is a cost effective and a sensible way to quickly increase the domestic supply of gas while benefiting the environment.
President Andrés Manuel López Obrador has made it clear that Mexico intends to balance the country's economic priorities with responsible environmental stewardship. He also wants more oil and gas production and lower hydrocarbon imports. Mexico currently imports nearly 60% of its natural gas from Texas, where there are virtually no plans in place to manage the industry's methane emissions.
Imagine the benefits for Mexico if, instead of paying to import gas, it invested resources to produce more gas and energy at home. President Obrador wants to revitalize Pemex into a national engine of economic growth. With methane being the main component of natural gas, it only makes sense that methane reduction be part of this business transformation. Solutions to reduce methane emissions could catalyze development in local manufacturing to support clean, smart technologies, and develop new business lines. Such an investment could create more jobs for Mexicans and simultaneously consolidate Mexico's position as a climate leader. Reducing methane emissions makes both good economic and climate sense.